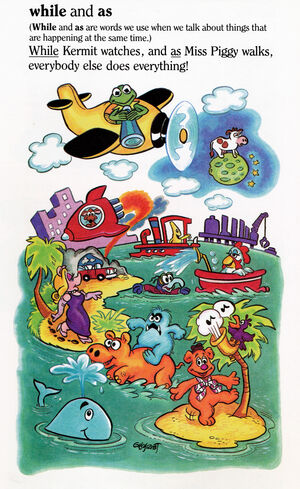 Kermit's Electronic StoryMaker is a video game/book set that was made for the Commodore 64 and Apple II in 1984. In the game, the player puts together a story using the words in the book. The player's choices then come to life as an animated story. Simon & Schuster also published a companion game under the Muppet Institute of Technology banner, The Great Gonzo in WordRider.
A New York Times article described the game: "The Muppets of the television show -- Kermit the Frog, Miss Piggy, Gonzo, the whole gang -- act out sentences that the child at the computer console constructs, using the program's vocabulary. No matter how ridiculous, if it's grammatically correct, they'll oblige."[1]
The illustrations in the instruction book are by Guy Gilchrist, who drew the Muppets comic strip from 1981 to 1986.
The game's music featured a rendition of the Muppet Show's theme song.
Sources