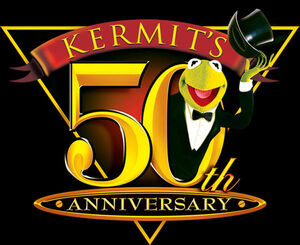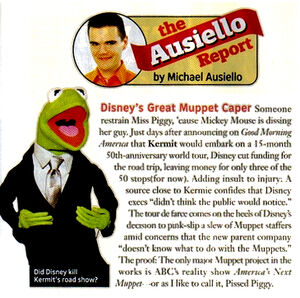 Kermit's 50th Anniversary World Tour was originally meant to have been a year-long event in which Kermit the Frog would travel to 50 locations in celebration of his 50 years in the entertainment industry. Highlights were to have been documented on muppets.com with video and photo galleries.
The first stop on Kermit's world tour took place on October 14, 2005 in Kermit, Texas. Other stops included the Johnson Space Center in Houston, Texas on October 15, 2005 and Radio City Music Hall in New York City on November 4, 2005. However due to a shift in management with The Muppets Holding Company, the tour was cut short after the first three stops.
According to the initial announcement, Kermit was to visit 50 destinations, across four continents - including such sites as the Statue of Liberty, the Eiffel Tower and the Great Wall of China, among others. Kermit was also planning to visit a Frog Leg Festival in Fellsmere, FL; run with the bulls in Pamplona, Spain; visit Hong Kong Disneyland; and make his first-ever USO appearance.[1]
A set of Kermit's World Tour magnets were also released featuring additional potential locations. Two Disney pins were also produced celebrating Kermit's birthday (for Walt Disney World and Disney Artist Choice). A third pin featuring the event's logo was made and gifted exclusively to Disney employees.
Two years after Disney scrapped plans for the tour, Master Replicas, the company behind the Kermit photo puppet replica, announced that they would be reviving the concept as a photo blog featuring fan submissions of the Kermit replica taken in iconic locales.
Tour stops
See also
Sources
Community content is available under
CC-BY-SA
unless otherwise noted.