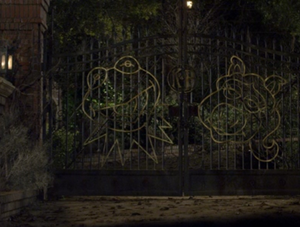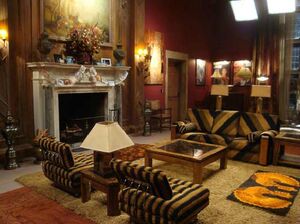 In the 2011 movie, The Muppets, Kermit the Frog has a mansion in Beverly Hills, California. Miss Piggy had it built in the hopes that, after their marriage, they would live together and raise tadpoles.
A private residence in Encino, California served as the exterior of Kermit's mansion. For the interiors, the filmmakers used Greystone Mansion of Beverly Hills, built in 1928 as a gift from oil magnate Edward L. Doheny to his son's family (and later sold to the city of Beverly Hills in 1965).
Of the creation of the mansion, The Muppets production designer Steve Saklad said, "It's [a] total 1981 bachelor pad. Hugh Hefner was sort of our inspiration and you see paint–photos of Kermit on the cover of Esquire and GQ, and Ebony magazine, and all these magazines, sort of, that had their glory days in 1981."[1] Other fake magazine covers in the room include Interview, People, and Playboy Fashion.
Kermit's residence
Although the scene was cut from the final version of the movie, B-roll footage of filming in the mansion reveals Kermit's admission that he doesn't actually live in the house. He just comes by once a week to check the mail and clean the pool filters (this may account for the toolbox he is holding when Walter, Gary and Mary first meet him).
I Am Kermit the Frog depicts Kermit lounging in the mansion's pool and explains that he splits his time between the luxurious home, and a lily pad at a nearby pond.
See also
Sources
↑ Interview with Production Designer Steve Saklad. www.sippycupmom.com. November 13, 2011.
Community content is available under
CC-BY-SA
unless otherwise noted.