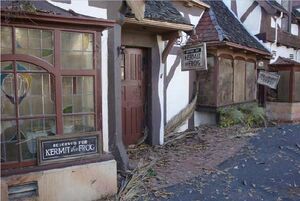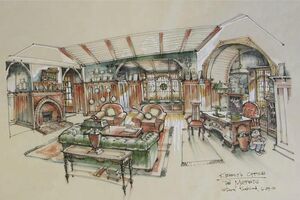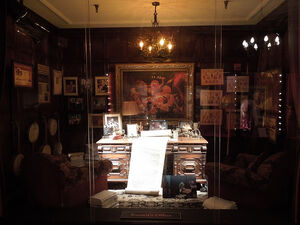 Kermit's Office was shown as part of the Muppet Studios in the 2011 feature film The Muppets. Designed by Steve Saklad, the office features a collection of banjos, photographs of Kermit with various The Muppet Show guests and other celebrities, including Jim Henson.
It is here that Walter overhears of Tex Richman's plans to tap into the oil located underneath the studio after Statler and Waldorf point out loopholes in Kermit's standard "Rich and Famous contract" he signed in The Muppet Movie.
On designing the office, The Muppets production designer Steve Saklad said that it is, "filled with the accumulation of all of these — of this amazingly rich life back in the day, and there are megaphones from the 20's, and little clip-toy theaters, and his awards, news clippings from the Muppets, you know, Buffo Box Office headlines, and all of it now is covered in dust and cobwebs and mold and so forth…"[1]
The exterior scenes at Muppet Studios were filmed at the Jim Henson Company Lot. The building known as "The Cottages" stood in for the exterior of Kermit the Frog's office. The building was one of the original buildings Charlie Chaplin had built on the lot; it housed his dressing room and office. The building is now used as Brian Henson's office.[2]
A recreation of Kermit's office was on display at the El Capitan Theatre, along with a recreation of Miss Piggy's Dressing Room and many of Miss Piggy's fashions from the film, including shoes by Christian Louboutin and a dress by Zac Posen. The office display included the "portrait" of Dr. Teeth and the Electric Mayhem, copies of Variety, various celebrities who guest starred on The Muppet Show, and a doctored image of Kermit with Jimmy Carter. A picture of Jim Henson with Kermit was also featured on his desk along with the Standard Rich and Famous Contract.
Sources
↑ The #Muppets: Interview with Production Designer Steve Saklad. www.sippycupmom.com. November 13, 2011.
Community content is available under
CC-BY-SA
unless otherwise noted.