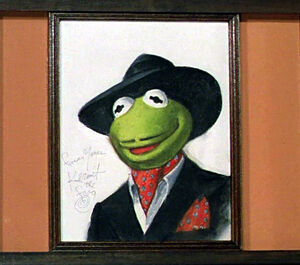 Kermit's Caricature appears on the wall at Sardi's in The Muppets Take Manhattan.
Depicting Kermit the Frog as a mustachioed Broadway producer, the picture plays a key role in Kermit's plan to obtain backing for Manhattan Melodies. With help from Rizzo and the rats, he hangs among the other caricatures on the restaurant's wall, replacing that of Liza Minnelli. The plan is foiled when Ms. Minnelli herself enters the restaurant and discovers her portrait has been removed. She speaks with the owner about this, who then discovers the ruse, throwing the fake producer and his fraudulent portrait onto the street.
The caricature can still be seen at Sardi's and is currently located on the upper level, right up the stairs on a column.