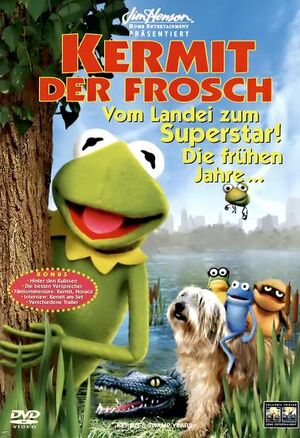 Kermit der Frosch is the German dub of Kermit's Swamp Years, that was released on DVD on November 19, 2002 (93 days after the film's US-release date).
The DVD cover also provides the subtitle "Vom Landei zum Superstar! Die frühen Jahre..." (which roughly translates to "From country bumpkin to superstar! The early years..."), though this is the only place that it appears.
The DVD bonus content is identical to the content on the US-release, with the special features remaining undubbed, only subtitled in German.
On June 12, 2014, the film was released on Blu-ray, making this the film's first release on the medium anywhere in the world. The languages on the release include English (DTS HD 5.0), French, German, Italian, Portuguese and Spanish (all Dolby Digital 5.0); the disc is playable in all regions.
Voices
Crew
Subtitles: SDI Media Group
Releases