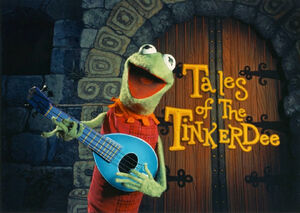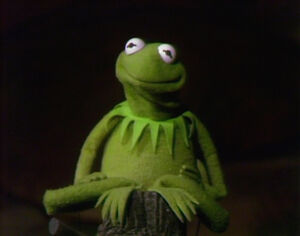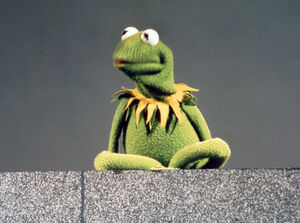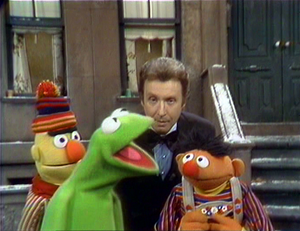 In the early days of the character, Kermit was not yet a frog — he was simply an abstract lizard-like character. As the character evolved, he gained flippers and his trademark collar.
Kermit first gained a collar in June 1962.[1] He wore a minstrel collar in 1962's Tales of the Tinkerdee, though this was orange and cropped with square-points, different from green triangular-pointed collars he would later wear.
According to the Henson Company archivist:
Kermit sported a double collar for a brief period in the early 1970s, including in the TV special The Frog Prince and several early seasons of Sesame Street, but by the time he took over as the host of The Muppet Show, it changed to the trademark single collar with eleven points that he still wears today.
In episode 402 of The Muppet Show, the Prairie Dogs steal Kermit's collar and he laments that he feels naked without it. He had, very briefly, appeared collarless four years earlier in an inconspicuous streaking scene on the German TV-special Peter Alexander präsentiert Spezialitäten.
It's a Very Merry Muppet Christmas Movie cuts in to the end of an interview with Kermit on Last Call with Carson Daly with the frog saying "...and that's why I have this funny collar!"
In The Muppets episode "The Ex-Factor," Piggy tells Kermit he should get a plastic surgeon to tighten up his neck waddle stating, "Your pointy jester collar ain't hiding anything."
Kermit the Frog often only wears a collar. The collar is not part of his anatomy. With the exception of Constantine and various other Kermit impersonators, no other Muppet Frogs sport a pointed collar like Kermit. Kermit and Fozzie's Dad in The Great Muppet Caper is shown with a similar collar. As a youth, Kermit wore a smaller collar but with shorter points (as seen in Kermit's Swamp Years and the Muppet Kids book series). A real frog wore a Kermit-esque collar in the "I'm Gonna Always Love You" music video and members of The Kermit the Frog Club also wear similar collars as a tribute to Kermit. Kermit's back-up singers in the Sesame Street song "Disco Frog" also wear rounded collars.
In a 2015 tweet, Kermit wrote: "Rowlf is one of my great friends. Not only does he run the best tavern in town, but we like to bond over the fact that we both wear collars!"[3]
The image of Kermit's iconic collar was used for the cover of The Muppet Show: Season One DVD set and was incorporated into the Muppet franchise's logo in 2010 with the "M" in Muppet dressed with a similar collar and felt texturing. Kermit hung a stocking with a similar collar in the "I Believe" music video. Several Muppet t-shirts have also been produced with a Kermit-inspired collar print.
Sources
See also