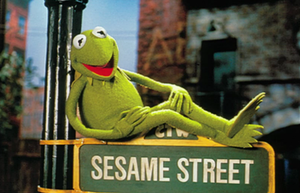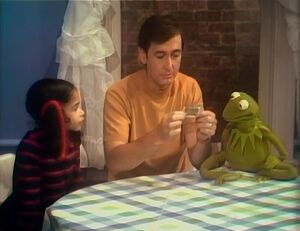 Since the premiere episode in 1969, Kermit the Frog has made significant appearances on Sesame Street. Unlike the other Sesame Street characters, Sesame Workshop never had any ownership of Kermit the Frog.
At one point in 1970, Kermit was going to be dropped from the show due to criticism that the character was too commercial. Look magazine reported that "when the new season starts November 9, expect changes. There will be no more know-it-all frog, since Kermit, the one Muppet who is not exclusive to Sesame Street, is opting out to do commercials."[1] Time Magazine reported with slightly more detail: "Kermit the Frog is being canned for commercialism. When Sesame Street was just a glint in Joan Ganz Cooney's eye, Kermit taped a special in Canada. When it was given a network airing, the frog was compromised. Or so Henson decided. .... He is being phased out of the show. He will be replaced by such Muppets as Herbert Birdsfoot and Sherlock Hemlock."[2]
However, Kermit made at least one sketch during the second season (as evident by the appearance of a blue-nosed Herry Monster) on a lecture about "between." The frog returned as a regular Sesame Street character in the third season (1971).
In addition to appearing on the show itself, Kermit also appeared in the show's pitch reel; the television specials Julie on Sesame Street, Christmas Eve on Sesame Street, Sesame Street, Special and 20 and Still Counting, Elmo Saves Christmas, Elmopalooza and CinderElmo; and the film Follow That Bird. Kermit and the other Sesame Street Muppets also made a guest appearance on Peter Alexander präsentiert Spezialitäten in 1975. He was also the central focus of the direct-to-video feature The Best of Kermit on Sesame Street.
Although the rights to Kermit the Frog are now owned by The Walt Disney Company, and the rights to Sesame Street are owned by Sesame Workshop, Sesame Workshop currently has permission from Disney to showcase existing Kermit segments in Sesame Street in its productions. Kermit made his first new appearance on Sesame Street since Disney's acquisition of the Muppets in the season 40 premiere episode, making a cameo in Elmo's World: Frogs.
Sketches, songs and segments
Kermit's most famous role on Sesame Street was that of a news reporter for the Sesame Street News Flash segments, interviewing characters from nursery rhymes and fairy tales.
One of his most memorable performances was the song "Bein' Green." Some of his other famous Sesame Street songs include "This Frog," "I Love My Elbows," "African Alphabet," "A Song from Kermit," "On My Pond," and "Caribbean Amphibian." Kermit also appeared in a smaller role in the chorus for such songs as "Do De Rubber Duck," "Everybody Be Yo'Self," "Picture A World" and "The Subway."
Kermit has also given many lectures on simple subjects. His lectures have covered such topics as letters, body parts, opposites. He also appeared in a series of sketches in which he would showcase various letters, numbers and shapes by drawing them on the screen. Kermit also took part in several talk spots with kids. Kermit often appeared alongside Grover or Cookie Monster in these segments.
In addition to his role as a news reporter, Kermit also appeared as a director in several sketches: directing Forgetful Jones in a film adaptation of Oklahoma!, directing Forgetful Jones going through the door in a western, directing a stage adaptation of "Goldilocks and the Three Bears," working with Gladys the Cow to direct a dance sequence, and casting for a performance of "The Three Little Pigs."
Kermit was also seen at his home on Sesame Street; Grover would often come to Kermit's house and sell things a frog can't use (such as toothbrushes and earmuffs). He also appeared outside the home in such situations as buying a custom T-shirt and delivering a package to the post office.
Kermit appeared in the "Monsterpiece Theater" segment "Gone with the Wind," as well as an appearance in a "Miami Mice" sketch.
Episodic Appearances
While the majority of his appearances on Sesame Street were in inserts, Kermit has occasionally appeared in street scenes and plots as well.
Kermit plays "One of These Things" with Susan.
Kermit holds up the letter K on the stoop of 123 Sesame Street.
Kermit covers Slimey's landing on the moon.
Kermit covers Slimey's return home from the moon.
Kermit is seen talking to Susan in the background.
Kermit reports on a hurricane coming to Sesame Street.
Merchandise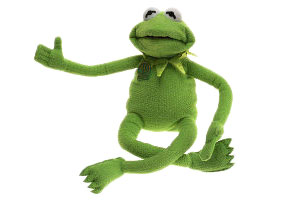 Kermit the Frog made regular appearances on Sesame Street from 1969 through the 1970s, more sporadically through 1990, and only occasionally thereafter. At least by the debut of The Muppet Show, however, and due to his outside status, Kermit was considered by Henson to be a "guest star"[3] and has thus been referred to as "Sesame Street's #1 guest star."
Kermit has been called a guest star on the cover for Sesame Disco, the packaging for the Magic Talking Kermit the Frog, video advertisements for The Best of Kermit on Sesame Street, and on the covers of recent DVDs such as Sesame Street: 20 and Still Counting and Silly Storytime.
Toys
Books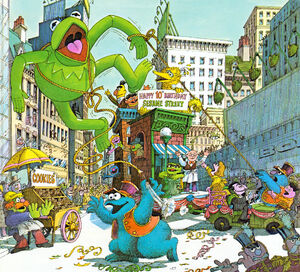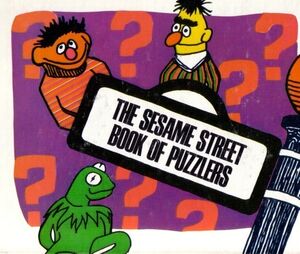 Video appearances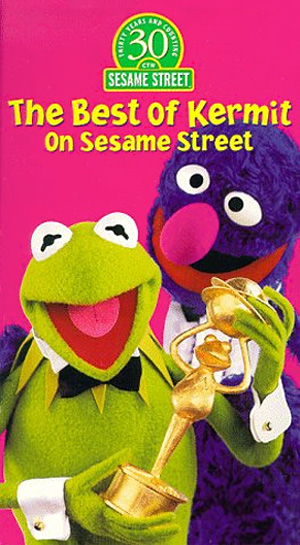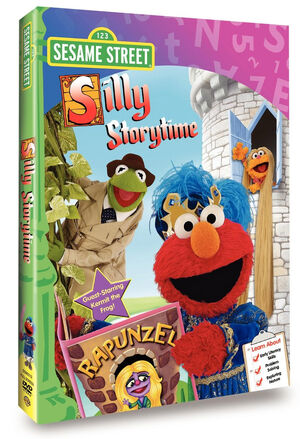 Featured on cover
Album appearances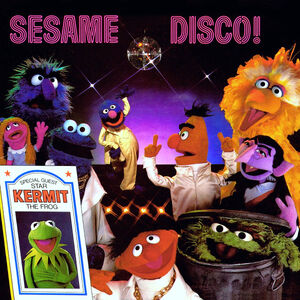 Featured on cover
Other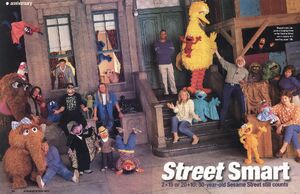 See also
Sources
↑ Time, November 23, 1970