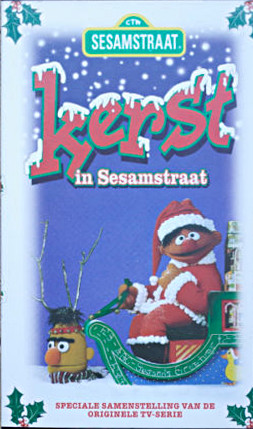 Kerst in Sesamstraat (Christmas on Sesamstraat) is a Christmas video from Sesamstraat, the Dutch co-production of Sesame Street.
Originally released on Pal video by Weton Wesgram (SKV-190), it contains a thirty minute compilation of insert clips from the Dutch episodes and American clips dubbed to Dutch.
A 2003 DVD/CD combination re-issue was the tenth Sesamstraat DVD produced by Weton Wesgram (SESDVD010) in a series of Sesamstraat DVDs. The CD is the same one as Kerstfeest met Bert & Ernie.
It was reissued on DVD was also released in 2006, and again in 2007 as part of Weton Wesgram's Sesamstraat Classics collection.
Segments
Klein Boompje (Little Tree)
Kerstboompje (Little Christmas Tree)
Bert heeft het koud (Bert is cold)
Witte kerst (White Christmas)
Links, rechts (Left, right)
De mierenheuvel (The anthill)
De tweekoppige sneeuwman (The two-headed snowman)
Winter (Winter)
Ik heb haast nog nooit sneeuw gezien (I've almost never seen snow)
Drie (Three)
Pantoffel (Slipper)
Stilte (Silence)
Het sneeuwt (It's Snowing)
Grover's kerstdiner (Grover's Christmas Dinner)
Sneeuw (Snow)
Engeltje (Little Angel)