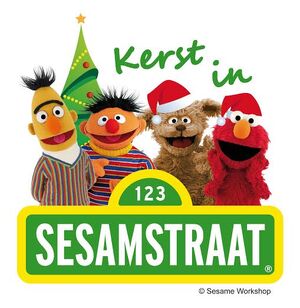 Kerst in Sesamstraat (Christmas on Sesame Street) was a Sesamstraat Theater show which premiered in 2014. It was the fifth live show based on Sesamstraat.
It ran from December 2014 until January 2015.
This project didn't go through the original Sesamstraat show. Because of that the original voices didn't want to get involved, and new voice-alikes were used in their place. The script was written by Sjoerd Kuyper, and the music was composed by P. Tjeerd Oosterhuis.
In the show, Doedoe, Pino, Tommie, Elmo, Ernie and Bert prepare for Christmas. A warm and wonderful celebration with the famous Christmas songs the audience can sing with them.
Cast
The cast also included a human character, Doedoe.
Performing cast
Crew
Mark van Ierssel, producer in association with NEW productions
Anne-Marie Wijnekus, producer and tourmanager
Albert Jan van Rees, director
Sjoerd Kuyper, script and lyrics
Tjeerd P. Oosterhuis, music
Willem Schotten, decor
Carolien Canters, choreography
External links