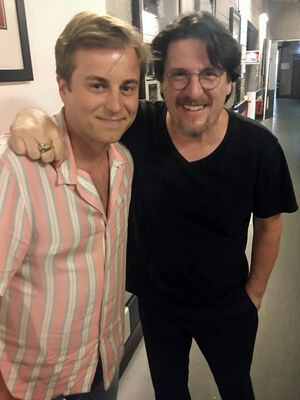 Kevin Bishop (b. 1980) is a former child actor who played Jim Hawkins in Muppet Treasure Island. As noted by Brian Henson in audio commentary for the film, Bishop recorded scratch tracks of his singing vocals prior to shooting, with the intent to replace them later; however, the young actor's voice changed, and so the initial vocals were used.
Years later, Bishop worked with the Muppets again for the 2018 concert, The Muppets Take the O2. Bishop appeared during the Friday evening show, participating in the Swedish Chef's attempt to make haggis and joining the finale for "Rainbow Connection."
Prior to making his film debut in Muppet Treasure Island, Bishop had played Sam on the high school drama Grange Hill. Later film credits include Food of Love, The Big Finish, and The Russian Dolls. TV work includes guest spots on the dramas The Bill and Doctors. Bishop would later move into sketch comedy in 2005, appearing on the Channel 4 series Spoons and the 2006 tabloid spoof Star Stories, impersonating Brad Pitt, Sean Penn, Ewan McGregor, and Michael Douglas, amongst others. In 2013, Bishop became starred in the ABC series Super Fun Night as Richard Royce.
In 2017, Bishop became the speaking voice of 2-D, fictional frontman of the British cartoon band Gorillaz.[1]
External links
Community content is available under
CC-BY-SA
unless otherwise noted.