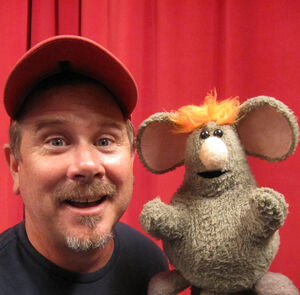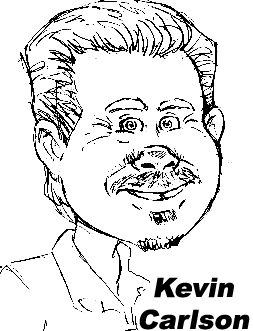 Kevin Carlson (b. April 12, 1962) is a puppeteer who has performed on various Muppet and Henson projects. On tour as the primary puppeteer in The Muppet Show: On Tour!, Carlson met both his future wife (who was one of the costumed dancers) and Jim Henson.
Outside of the Muppet realm, Carlson was trained at a workshop hosted by Sid and Marty Krofft, later performing in a series of 1981 Oral Roberts Celebration specials. He later wrote and performed in the The Adventures Timmy the Tooth puppet series as well as the feature film Team America, the Men in Black series, PeeWee's Playhouse, Mr. Potatohead, Imagination Movers, and other TV shows and commercials. In 2006, Carlson performed a puppet character, "Edward R. Meow," in an episode of The Office; the puppet was a character in a TV show that Michael Scott (Steve Carell) appeared in as a child.
Carlson also ran an online puppet greeting card site called PuppetGreetings featuring original characters such as Captain Bucky, Bob, Eyegore (from Timmy the Tooth but with a different name) and more.
Henson/Muppet Credits
Non-Henson Credits
Pee-Wee's Playhouse: Clocky, Conky, Floory
The Adventures of Timmy the Tooth: Timmy the Tooth
Toby Terrier and His Video Pals: Toby Terrier
Men in Black
Batman Returns: Penguins
Dr. Dolittle 2
Men in Black II
All That: Fuzz (Leroy & Fuzz)
Crow Police
Team America: World Police
PuppetGreetings.com
Imagination Movers: Warehouse Mouse
Animal Wow!: Stately the Mutt
External links