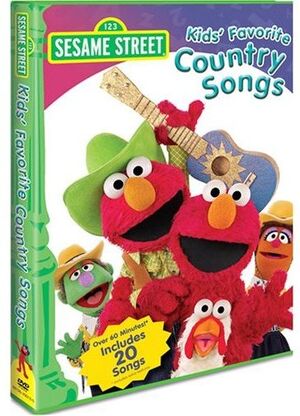 Kids' Favorite Country Songs is a 2007 direct-to-video Sesame Street special featuring Elmo and his country cousin, Elmer. The hour-long video includes over 20 songs and features celebrity guests, in both new footage and clips from the show, including Lee Ann Womack, John McEuen, John Popper, Alison Krauss, LD Miller, Johnny Cash, and in bonus features, Garth Brooks, Tim McGraw, Faith Hill and Sugarland.
The video's frame-work parodies the opening of Hee Haw, including an animated chicken replacing the latter show's donkey.
The DVD also features 8 bonus segments.
Songs
Bonus Sketches
Cast
* also credited as segment performer
Segment Performers
Credits
Executive Producer: Dionne Nosek
Co-Executive Producer: Kevin Clash
Line Producer: April Chadderdon
Producer: Jennifer Smith
Directed by: Kevin Clash
Head Writer: Joseph Mazzarino
Written by: Rickey Boyd
Music by: Mark Radice
Music Supervisor: Loren Toolajian
Senior Muppet Consultant: Kevin Clash
Jim Henson's New York Puppet Workshop: Jason Weber, Connie Peterson, Jason Seck, David Roberts, Rollie Krewson, Michelle Hickey, Andrea Detwiler, Polly Smith, Anney McKilligan, Alana DeMatteo
Set Designer: Bob Phillips
Associate Director: Dean Gordon
Second AD: Frank Campagna
Costume Designers: Bill Kellard, Terry Roberson
Senior Graphic Designer: Mike Pantuso
Sound Effects: Dick Maitland
Control Room PA: Mindy Fila
Segment Producers: Augenblick Studios, Magnetic Dreams Animation Studio, Mustapha Khan Productions, Wachtenheim/Marianetti LLC, Imagination, Inc.
Segment Directors: Aaron Augenblick, Ken Diego, Mustapha Khan, Ted May, Jon Stone, and Steven Feldman, Emily Squires
Segment Composers and Lyricists: Chris Cerf, Ernie Fosselius, Daniel Hicks, Joe Raposo, Dennis Scott, and Sara Compton, Sarah Durkee, Paul Jacobs, Emily Kingsley, David Korr, Robert Merkin, Jeffrey Moss, Sam Pottle, Joe Romano, Josh Selig
Technical Directors: Tom Guadarrama, Dave Satin, Richard Wirth
Audio Engineer: Blake Norton
Cameras: Frank Biondo, Jerry Cancel, Jay Kulick, Pat Minietta
Vice President Education and Research: Rosemarie T. Truglio, Ph.D.
Senior Curriculum Specialist: Autumn Zitani Stefano, M.A.
Taped at Kaufman Astoria Studios
See also
External links
Community content is available under
CC-BY-SA
unless otherwise noted.