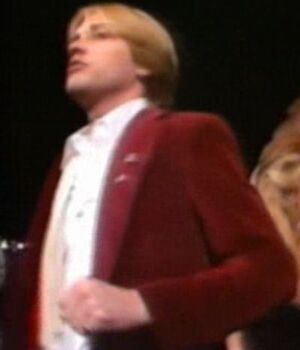 Kim Milford (born Richard Kim Milford, 1951-1988) was an actor, musician, and songwriter who starred in the 1978 movie Laserblast (later aired on Mystery Science Theater 3000). The following year, Milford appeared in The Muppets Go Hollywood, joining the conga line near the end.
Milford began on-stage in Broadway and off-Broadway shows and tours, starting with the 1967 musical Henry, Sweet Henry. He was in the original Broadway runs of Hair (as a replacement for Woof and Claude) and The Rocky Horror Show (as Rocky), and national tours of 1776 (the courier) and Jesus Christ, Superstar (as Jesus and later Judas). During this period, he also wrote songs with or for Ron Dante, including "She's Putting Me Through Changes" for The Archies. In early 1972, he spent a stint as vocalist for guitarist Jeff Beck's group.
On-camera, Milford made appearances on The Mod Squad and Mannix, and starred in two 1975 ABC TV movies, as a rock star whose band gets involved in supernaturally-tinged mysteries. In 1978, in addition to Laserblast, he co-starred in Corvette Summer (with Mark Hamill) and had a supporting part in Richard Gere's Blood Brothers. His few later movies were low-budget action or horror entries.
External links
Community content is available under
CC-BY-SA
unless otherwise noted.