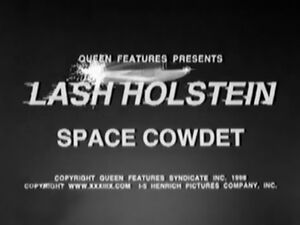 King Features Syndicate is a print syndication company best known for distributing many newspaper comics strips, including the licensing rights to such characters as Popeye, Blondie, Beetle Bailey, Flash Gordon, Hi and Lois, Dennis the Menace, and many others, past and present. The syndicate started in 1914 as the banner for all syndicated material from Hearst newspapers. King Features has also syndicated an assortment of columns, advice and household features, and puzzles, but remains best known for their comic strips.
King Features often licensed their characters for movies (the Blondie series, The Phantom), serials (Flash Gordon), and cartoons (Popeye, of course), and beginning in 1960 had their own television division, handling animated versions of their characters as well as the cartoon version of The Beatles.
King Features handled the syndication of the Sesame Street comic strip (1971-1975), and in 1972, syndicate editors joined cartoonist Cliff Roberts in judging a name contest for a new character. King also syndicated The Muppets comic strip (1981-1986).
Appearances
References
External links