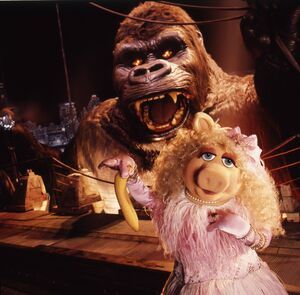 King Kong is a giant ape who became a very big movie star with his 1933 film, followed by a handful of sequels and remakes including a Japanese movie called King Kong vs. Godzilla where King Kong fights Godzilla.
He has been spoofed in numerous Muppet productions, his iconic climb up the Empire State Building being a frequent target of parody.
Appearances
The same theme park incarnation of Kong was featured in the Winter 1988 issue of Muppet Magazine, for a feature where Miss Piggy tours Universal Studios.
Creature Shop
References
In the second season Muppet Babies episode "Piggy's Hyper-Activity Book," King Kong appeared in Baby Gonzo's imagined scenario of owning a board game hotel, the Saint Gonzo Hotel,which looks like the Empire State Building. A well behaved King Kong is working as room service by climbing up the building. After the ape makes a delivery, Gonzo places a banana is his hand saying "Your tip."
In the "Kermit, P.I." segment seen in the Little Muppet Monsters episode "Space Cowboys," Kermit and Fozzie are on a mission to find a gorilla who has escaped from the zoo, eventually figuring that gorillas like pretty blondes on the Empire State Building.
In the third season Muppet Babies episode "Around the Nursery in 80 Days," Baby Animal imagines King Kong as the ideal babysitter as he is "hairy and smelly," perfect for Animal's type. The other Babies are terrified of Kong, but Gonzo tries to offer King Kong a seat, who takes it in his hands and crumples it into sawdust.
Baby Gonzo takes the Muppet Babies on a quest to find a kitty in the seventh season Muppet Babies episode "Puss N' Boots N' Babies," leading them to an alley where he reveals footage of the ape character Bonga from the serial Darkest Africa. Gonzo demands $400 for his services, but Baby Piggy incorrectly informs him that it's not a kitty, it's King Kong.
During the theme for Sesame English, as Tingo's plane arrives in New York, a gorilla is seen clinging to the Empire State Building.
Connections