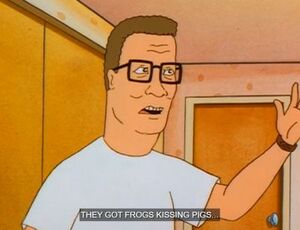 King of the Hill is an animated sitcom created by Mike Judge and Greg Daniels that ran from 1997 to 2010 on FOX. The series focuses on the Hill family and the mundane aspects of their everyday lives.
Muppet Mentions
"Hilloween" - One of the costumes Hank mentions at the store is Elmo.
"Goodbye Normal Jeans" - Peggy overhears Hank watching a Thanksgiving Day parade on TV with Bobby: "That Miss Piggy balloon has the same hairdo as your mother."
"Stressed for Success" - In a discussion about the presence of pop culture in academics, Boomhauer points out that Oberlin College has a course on the Muppets.
"Edu-macating Lucky" - Lucky comments on Luanne's sense of humor: "I'm datin' a regular Fozzie Bear."
Connections