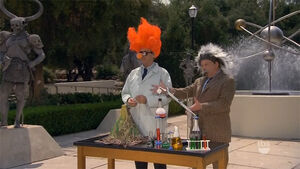 King of the Nerds is a competitive reality show on TBS that aired from 2013 to 2015. Hosted by Robert Carradine and Curtis Armstrong, the show pits nerds against one another to become the "King of Nerds".
Mentions
During the presentation of one of the contestants for the second season, contestant Katie Correll reveals that she's a roboticist. But while all of her friends are building spaceships, she's building puppets as an intern on Sesame Street.
In the second episode of the second season, Robert Carradine dressed up like Beaker, when he and co-host Curtis Armstrong present the King of the Nerds Science Fair to the contestants.
In the fifth episode of season three, the contestants played "Name that Nerd"; during a fast edit of the answers, Jim Henson was mentioned.
Connections
Community content is available under
CC-BY-SA
unless otherwise noted.