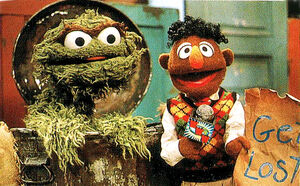 Kingston Livingston III (named after his dad and his grandfather) is a young boy Muppet on Sesame Street who first appeared in Season 24, in episode 3103.
Kingston takes pride in doing his own thing instead of simply following the crowd. When his friends wear their baseball caps backwards, Kingston wears his to the front because he likes that better, and he loves dancing even when it's different than everyone else's. His friends, notably Loretta, don't mind if he's different, and think he's cool for it. In Kingston's debut episode, he's shown to be friends with Roxie Marie, who sits next to him in class and shares an interest in bugs.
For Season 26, when the show emphasized the importance of literacy, Kingston was the Muppet character who embodied this lesson. He often wrote short stories, and once reported for "The Wide World of Writing", travelling around the Street to see what writing could be used for.
Kingston was mostly active on the show until Season 29. However, two insert segments continued to air through Season 38: his biographical song "Just Happy to Be Me" (First: Episode 3178) and the birthday song "A Cat Had a Birthday." (First: Episode 3331)
Appearances
Book Appearances