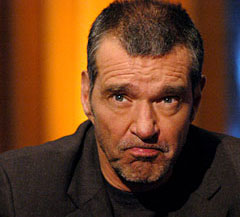 Kjell Bergqvist (b. 1953) voiced the Anything Muppet cowboys in the Old West sketch "Surprise", The Three Little Pigs and various other characters for Svenska Sesam, the Swedish co-production of Sesame Street. His full name is Kjell Bertil Leonard Bergkvist.
Bergqvist graduated from Dramatens acting school in 1973, and he got his first movie role the same year in Om 7 flickor. In the 90s, he was in a handful of the Swedish agent movies about Martin Beck, in which he played the role of Kollberg.
His dubbing credits includes Spy Kids, Doctor Snuggles, and La flûte à six schtroumpfs (The Smurfs and the Magic Flute).