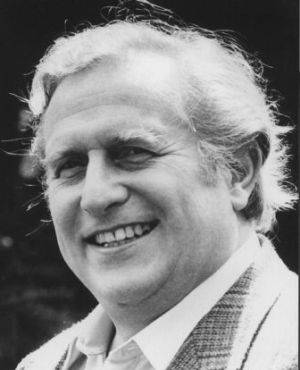 Klaus Sonnenschein (b. 1936) is a German voice actor who dubbed Bobo in Die Muppets (The Muppets) and the German dub of Muppets Most Wanted. He dubbed various guest characters (including Howlin' Jay) on Die Dinos (Dinosaurs), Farmer Grultrud in the Creature Shop-effects film Gulliver's Travels, and Shep in Good Boy!
A deep-voiced actor, Sonnenschein is the primary German voice of Morgan Freeman (including Batman Begins) and frequently dubs John Goodman (usually alternating with Hartmut Neugebauer). He has also regularly dubbed Danny DeVito (including Batman Returns), Bob Hoskins in (Who Framed Roger Rabbit? and others), Ned Beatty, Judd Hirsch, Kenny Rogers (in the four Gambler TV movies), and Jon Polito, as well as Charles Durning in Mr. St. Nick, Kris Kristofferson in Stakeout, Alun Armstrong in Oliver Twist, and Audrey II in Little Shop of Horrors. In film franchises, he dubbed Christopher Lee as Count Dooku in the Star Wars prequels, William Shatner in the first three Star Trek movies, and Burt Young in the first two Rocky movies.
Animation roles include Lotso in Toy Story 3, Mr. Tweedy in Chicken Run, Mr. Prendergast in Paranorman, Cortes in Road to El Dorado, Galger in the German feature Boo, Zino and the Snurks, and Roadkill in Rango.
He was married to fellow dubbing artist Edith Hancke (voice of Baby Sinclair on Die Dinos) from 1972 until her death in 2015.
External links