Written by
Paul Simon
Date
1973
Source
There Goes Rhymin' Simon (album)
"Kodachrome" is a song written and performed by Paul Simon for his album There Goes Rhymin' Simon.
Dr. Teeth and the Electric Mayhem performed the song in a YouTube video that was released on December 26, 2015. The band sings in front of a roaring crowd, as video screens above the band showcase various Muppet characters getting their photos taken. (YouTube)
Muppets that appear in the video include: Dr. Teeth, Floyd Pepper, Janice, Animal, Zoot, Lips, Kermit the Frog, Miss Piggy, Fozzie Bear, Rowlf the Dog, Dr. Bunsen Honeydew, Beaker, The Swedish Chef, Gonzo, Camilla the Chicken, Rizzo the Rat, Yolanda Rat, Bobo the Bear, Scooter, Pepe the King Prawn, Walter, Lew Zealand, Sam Eagle, Constantine, Statler, Waldorf, Beauregard, Link Hogthrob, Bubba the Rat, and Dr. Julius Strangepork; plus some unnamed Muppet chickens and penguins. In one part of the video Piggy, Link and Strangepork are seen in their Swinetrek crew uniforms from "Pigs in Space."
The video was produced as part of The Muppets at YouTube Space LA project and was shot in March 2015. The video was directed by Kirk Thatcher.[1] Steve Whitmire revealed at Dragon Con 2015 that this was the last video to feature the original Lips puppet, as it literally came apart during the last day of shooting. This also marked the first time another character referred to Lips by name: at around the 3:25 mark Floyd can clearly be heard saying, "Let's go, Lips."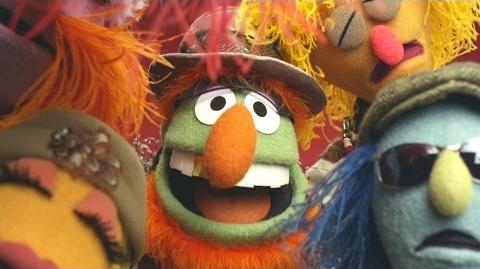 Sources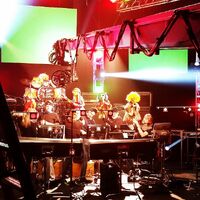 See also
External links