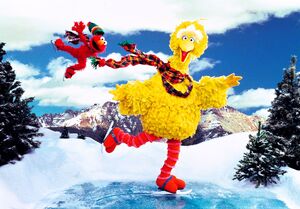 Kodak is a US corporation which produces film products. Founded in New York in 1892, it was the first company to produce cameras for non-professional use, and it is the largest supplier of photographic film in the world. However, due to changing technology, the company is currently re-focusing on the markets of digital photography and digital printing.
The Kodarama in New York City's Times Square is a 30 by 50 foot display on the front of the Marriott Marquis Hotel which features a billboard-sized photograph in an advertisement for the company. A photograph by John E. Barrett featuring Elmo and Big Bird was featured on the Kodarama for the holiday season in the early 1990s. The advertisement can be seen in the feature film Noises Off.
Kodak sponsored a Tournament of Roses Parade float in 1996 which was based on Muppet Treasure Island, and is a longtime sponsor of Muppet*Vision 3D at Disneyland and Walt Disney World.
In 1935, Kodak invented a color reversal film, marketed as Kodachrome and immortalized in the Paul Simon song of the same name (later covered by Dr. Teeth and the Electric Mayhem).
Company founder George Eastman appears in Elmo's World: Cameras.