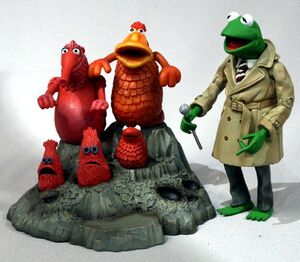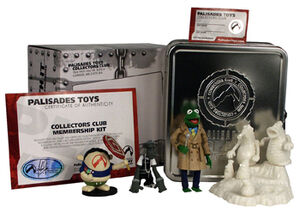 Released: Summer 2003
Articulation: Neck, ball jointed shoulders, elbows, wrists, waist, hips, ankles
Accessories: Microphone, Male Koozebanian Creature figure, Female Koozebanian Creature figure, Baby Koozebanian Creature figure, Koozebane landscape with two Merdlidops.
From: The Muppet Show
This exclusive figure of Kermit, made by Palisades Toys, wears his famous reporter outfit. He is reporting live from the Planet Koozebane, where he witnesses the Koozbanian Creatures.
The Male Koozebanian Creature, Female Koozebanian Creature and Baby Koozebanian Creature starred in the famous Koozbanian Mating Ritual sketch from The Muppets Valentine Show and episode 107 of The Muppet Show. The male and female have moving arms. The Merdlidops are from a sketch in episode 211.
The figure was sold at Target stores, along with two variants: a "nocturna" repaint with blue and purple aliens, and a set with glow-in-the-dark aliens. The latter was sold through the Palisades Collectors Club.
Originally, Palisades Toys was not allowed to make a news reporter Kermit Action Figure as part of its Muppet Show Action Figure line because reporter Kermit is more associated with Sesame Street than The Muppet Show. However, Palisades was later allowed to make one under the conditions that it was dressed exactly as Kermit wore his news outfit on The Muppet Show (i.e., no hat and a different microphone than the one he had on Sesame Street) and he be included with Planet Koozebane-themed accessories. [cite]
Community content is available under
CC-BY-SA
unless otherwise noted.