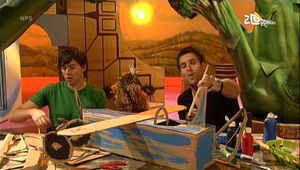 Kop in de wolken ("Head in the Clouds") is a Sesamstraat song. It was originally sung by Pino and Tommie as they build an airplane. Meneer Aart asks if they really mean to fly the plane, and they say that they do, and they are taking him with. The three fly through the clouds. When Meneer Aart claims he needs to close his eyes, Pino tells him to look down and admire the land instead. Later they fly over his house, which looks tiny.
In an episode which aired January 16, 2010, the Dutch singing duo of Nick and Simon appeared on Sesamstraat.[1] They ask Tommie to help them build a cardboard plane as they sing this song. In this version, Tommie sings the part previously played by Meneer Aart. Instead of the three "flying" through clouds, they hold up the plane for Tommie to pretend he is steering at the end of the skit.
Releases
Audio
External links
Sources
Community content is available under
CC-BY-SA
unless otherwise noted.