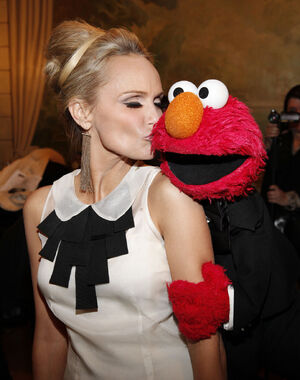 Kristin Chenoweth (b. July 24, 1968) is a stage and screen actress, perhaps best known for the role of Glinda, the Good Witch of the North, in the Broadway production of Wicked. Chenoweth also won an Emmy Award for her role as Olive Snook in the TV series Pushing Daisies.
On Sesame Street, Chenoweth plays Mr. Noodle's sister Ms. Noodle in a few Elmo's World segments and related videos. She more recently provided the voice for Christmas Carole in the direct-to-video production, A Sesame Street Christmas Carol.
She appeared as herself in The Muppets episode " The Ex-Factor."
She was photographed kissing Elmo at the Drama League of New York 2012 benefit gala. The same year, she appeared in the Never-Ending Mahna Mahna Phenomahna.
Chenoweth covered "Sing" (with special themed lyrics) for her 2008 album A Lovely Way to Spend Christmas.
In January 1997, Chenoweth appeared opposite her Sesame Street co-star Bill Irwin in an off-Broadway production of Moliere's Scapin. During the 1998-99 season, she played the role of Sally in the Broadway production of You're a Good Man, Charlie Brown, sweeping the Tony, Drama Desk and Outer Critics Circle Awards as the season's "Best Featured Actress in a Musical." In the 2010 Broadway season, she co-starred with Sean Hayes in a revival of the Broadway musical Promises, Promises.
Chenoweth was a regular on The West Wing as White House media consultant Annabeth Schott, for which she shared a nomination for a 2005 SAG Award for ensemble cast. In film, she has co-starred in Bewitched, The Pink Panther, and an adaptation of Augusten Burroughs' Running With Scissors. She appeared in the ABC TV movie versions of The Music Man (opposite Matthew Broderick) and Annie (as Lily St. Regis). Her voice acting credits include Disney's Tinker Bell direct-to-video movies and The Peanuts Movie
External links