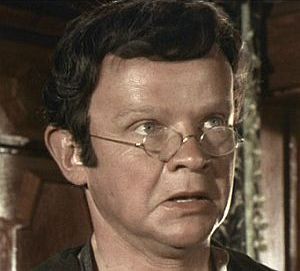 Kurt Zips (1922 - 1988) was a German voice actor with a distinct piping voice who dubbed Dr. Bunsen Honeydew (Dr. Honigtau Bunsenbrenner) in Die Muppet Show and the German dubs of Muppet movies and specials through A Muppet Family Christmas.
Zips was a familiar presence in the German soundtracks to cartoon series, especially those recorded by Eberhard Storeck, voicing Elmer Fudd, MGM's Droopy, bit parts in the Asterix movies, Alexander the mouse in Maya the Bee, and various roles in Dr. Snuggles. In live-action dubbing, he re-voiced Hervé Villechaize in The Man with the Golden Gun and various guest aliens on Star Trek.
As a screen actor, Zips appeared in German film and television (including Tatort and Derrick), as well as the occasional international film, usually in comic roles. Most notably, he appeared in Clint Eastwood's 1965 spaghetti Western For a Few Dollars More, as a nervous El Paso hotel owner (fellow Die Muppet Show voice Werner Abrolat also appeared).