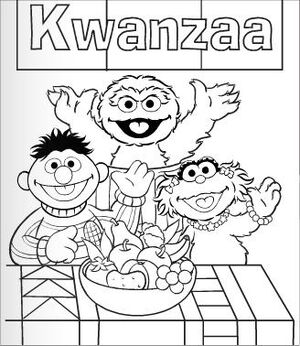 Kwanzaa is a week-long celebration held in the United States honoring African heritage and culture. Created by Ron and Maulana Karenga in 1966, the seven days of celebration are held from December 26 to January 1. The holiday is often celebrated in conjunction with Christmas.
The main focus of the holiday is the celebration of the Seven Principles of Kwanzaa, Umoja (Unity), Kujichagulia (Self-Determination), Ujima (Collective Work and Responsibility), Ujamaa (Cooperative Economics), Nia (Purpose), Kuumba (Creativity) and Imani (Faith).
During the seven days of celebration, families celebrating Kwanzaa decorate their households with objects of art, colorful African cloth and fresh fruits that represent African idealism, light kinara candles, and share libations with a common chalice.
References
The Sesame Street coloring book Celebrate! features Kwanzaa celebrations.
Community content is available under
CC-BY-SA
unless otherwise noted.