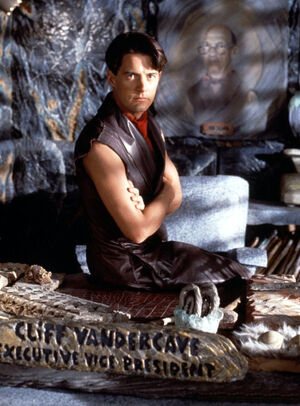 Kyle MacLachlan (b. 1959) is an actor who played Cliff Vandercave in the Creature Shop-effects film The Flintstones.
MacLachlan first gained fame from his work with director David Lynch, with leading roles in Dune and Blue Velvet, followed by the TV series Twin Peaks. He received two Emmy Award-nominations for his portrayal of coffee and pie loving Agent Dale Cooper (and was spoofed as Agent Cookie in the "Monsterpiece Theater" version, "Twin Beaks.")
MacLachlan has remained a familiar TV face, with recurring roles on Sex and the City (as Dr. Trey MacDougal) and Desperate Housewives (as Orson Hodge). Other film credits include the 2000 Hamlet (as Claudius), Showgirls, and Touch of Pink (as the spirit of Cary Grant).
External links