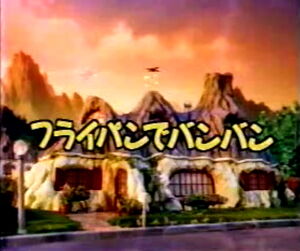 Kyouryuu Kazoku (恐竜家族) was the Japanese language dub of Dinosaurs. The Japanese dub aired on NHK from 1995 to 1996. The literal English translation of 恐竜家族 is "dinosaur family". The title card appeared at the beginning of the program, and was followed by the original opening credits, complete with the original title Dinosaurs.
The episode Hurling Day never aired in Japan because of strict broadcasting laws against underage drinking.
Audio format
The Japanese version of the program was broadcast in both the original English language and a Japanese language dub. The viewer could change between either language by setting their TV to use either only the left or the right stereo audio channel. If the TV was set to the normal stereo setting (with both the left and right channels enabled) both the English and Japanese language versions would be heard simultaneously.
Voices