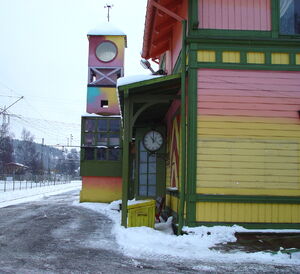 Lørenskog Station is a functioning train station in Lørenskog, Norway, that served as the filming location for Sesam Stasjon. It was turned into a tourist attraction, due to the series' popularity.
All outdoor scenes for the Norwegian co-production of Sesame Street (1991-1998) were filmed at Lørenskog Station. Indoor scenes were filmed in a studio. From 1991 onwards, the station was painted in a multitude of colours. The interior of the station was also changed in that August to match the Stasjon studio set, so the public could see and walk around the station.[1] The cast and walk-around characters made live appearances at times.
As Lørenskog serves only commuter trains, the show featured a modified train from the 1940s, provided by the Norwegian railroads (NSB).
Kindergarten classes would take trips from Oslo, by train, to visit the facility.
The station decided to revert its colours in 2003, completing the process in spring of 2006.
Sources