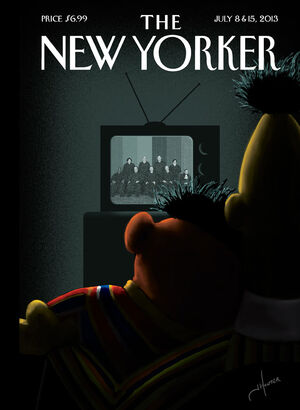 LGBT culture describes the social paradigm by which lesbian, gay, bisexual, transgender, and queer individuals sometimes identify. Celebrated in modern culture as "LGBT pride" (sometimes abbreviated simply as "pride") is the celebration and promotion of the self-affirmation, dignity, equality, and increased visibility of lesbian, gay, bisexual, and transgender (LGBT) people as a social group. An added I for intersex, Q standing both for questioning and queer, or + to encompass spectrums of sexuality and gender can produce an elongated initialisms of LGBTIQ+ or other variations thereof. In the United States, LGBT Pride Month takes place annually in June (coinciding with the commemoration of the Stonewall riots, which occurred at the end of June 1969). Several different flags symbolize LGBT Pride, with the most common and internationally recognized flag being the six-colored rainbow (ironically displayed in "straight" lines).
Sesame Street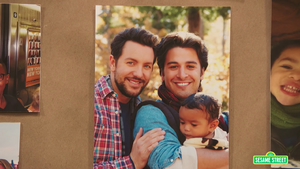 Producers of Sesame Street have promoted that "Sesame Street has always stood for inclusion and acceptance."[1] The show has denied speculation over the nature of Ernie and Bert's relationship and, like many children's shows, avoided featuring any same-sex couples or references to non-traditional relationships due to social and political pressure throughout the 20th century and early decade of the 21st century. A subtle departure from this appears in the song "We All Sing with the Same Voice," which contains the lyric, "I've got one daddy, I've got two."
Sesame Workshop and Sesame Street have celebrated LGBT Pride Month annually on their social media channels since 2017 with various Pride posts on Twitter, Instagram and Facebook throughout the month of June. These posts often use the imagery of the rainbow or pride flag along with messages supporting families and love of "all shapes, sizes and colors."
Also, as early as 2017, the Sesame Street series has shown occasional examples of same-sex couples. In the Elmo's World segment "Father's Day," Smartie demonstrates the different types of fathers one can have, at one point showing a child with two dads. A recurring film segment entitled "F is for Family" (First: Episode 4731) shows a montage of all kinds of families, including a boy with two mothers. In a 2018 video for Sesame Street in Communities, Abby's blended family observes a wall of photos of different families. Rudy acknowledges a picture of a male, homosexual couple, by counting the two daddies in the photo.[2] A 2020 Big Bird's Road Trip segment featured in Episode 5011 showed a girl from Georgia sharing a picture of her two mommies. Foley of The Sesame Street Podcast with Foley & Friends mentions having two dads in the "Nature" and "Family" episodes.
Episode 5132 introduced Nina's brother Dave along with his husband Frank and their daughter Mia. When Rudy notices that all the families on Sesame Street look "so different," Frank explains that "there are all different kinds of families, but what makes us a family is that we love each other." Later in the episode, Kelsea Ballerini performs a song about different kinds of families, which includes a pair of married women.
In June 2021, Bob McGrath (Bob) and Emilio Delgado (Luis) appeared on the Bay Rustin Center for Social Justice's "Virtual Pride 21" event to perform "Welcome!/¡Bienvenidos!" from Sesame Street. [3][4] McGrath said of the appearance: "This month is a time of celebration and joy for everyone, where we can commemorate all the different types of love and identities that exist in the world. Through this song, I want to let all my friends under the rainbow know that mi casa is tu casa! So to the entire LGBTQ+ community: 'my house is your house' and I'm 'happy I can see you.' 'The world's a sunshine warming place full of lovin' when you know the way to live.' So 'hold out your hand' open your hearts and love people for who they are."[5]
The Muppets
Miss Piggy gave a "snout-out to the gays" in the November 2011 issue of Out, a popular gay and lesbian lifestyle magazine; Piggy shared ten very brief, personal notes on her connection with the gay community. Additionally, on November 17, 2011, while in New York City to promote The Muppets, Miss Piggy walked the red carpet at the OUT100, an event honoring LGBT visibility, held at the Skylight SOHO.
Miss Piggy also appeared as a guest at a fundraising event in December 2011 for The Trevor Project, a non-profit organization, focused on suicide prevention efforts among lesbian, gay, bisexual, transgender and questioning (LGBTQ) youth. In a pre-recorded message Piggy remarked "On behalf of moi's self, Kermit, and all of the Muppets — we support you... we believe everyone deserves kindness, respect and decent treatment."
Piggy, herself being a drag performance, has been called a gay icon; the pig commented on the fact in a 2014 interview stating: "I love being anybody's icon. I'm an icon to all who will have me."[19]
Although not acknowledged on screen, Leslie Carrara-Rudolph described her character Darci from Muppets Tonight as an angry rocker lesbian.[20]
The 2015 television series The Muppets featured several acknowledgements of LGBT culture. In "Pig Girls Don't Cry," Fozzie comments on his dating efforts stating that "when your online profile says 'passionate bear looking for love,' you get a lot of wrong responses." He quickly corrects his wording and says "Uh, not 'wrong.' Uh, just wrong for me." Later, in the episode "Hostile Makeover," Pepe comments that he too gets the feels for Josh Groban and when everyone else acts shocked by the statement, Pepe comments, "What? He's a handsome man, and gender is fluid."
In June 2020, Kermit the Frog appeared on "Can't Cancel Pride," an online special (due to in-person celebrations being canceled due to the COVID-19 pandemic) which supported diverse LGBT organizations.
In the Muppets Now episode "Due Date," openly gay drag queen RuPaul guest stars, and is referred to with both he/him and genderneutral they/them pronouns by the characters throughout their segment together.
In August 2021, following conservative backlash to the "Gonzo-rella" episode of Muppet Babies (see below), Gonzo tweeted an image saying "Trust me: You are not alone. Each and every one of us is one of a kind. Even if your kind is hard to define, that's okay! -The Great Gonzo". He accompanied this image with the text "Whoever or whatever you want to be is okay by me! (Personally, I prefer to be… whatever.)"[21]
On October 8, 2021, in promotion of Muppets Haunted Mansion, Miss Piggy was interviewed for LGBTQ+ outlet Queerty, talking about Kermit and Piggy doing drag in the film, her huge gay following, and potential body image issues.[22]
On June 6, 2022, at the start of Pride Month, the Muppets official social media accounts posted a Pride message along with a link to download special Muppets & Pride Wallpapers from D23.[23]
Muppet Babies
The Muppet Babies reboot episode "A Tale of Two Twins," challenges perceived and socially established gender stereotypes. And while the show's regular back-and-forth transitions from the characters' reality to their imagination are usually visualized with a rainbow-colored circle radiating outward, each instance that Scooter and Skeeter switch places (and clothes), these transitions are depicted by a rainbow-colored tornado surrounding the duo.
The episode combo "Gonzo-rella / Summer's Car Trouble," again challenges gender stereotypes, when Gonzo wants to go to Piggy and Summer's royal ball dressed as a princess, and Summer brings a toy car that she made with her grandpa to show-and-tell.
When asked about the idea behind the episode by D23, the show's executive producer Tom Warburton replied: "Very early on, we wanted to do an episode where Gonzo just showed up to the Playroom wearing a skirt. And it was no big deal. No one cared or questioned it because Gonzo is always 200% Gonzo 347% of the time. But then story editor/co-producer Robyn Brown and her team wanted to take it a step further and do a Cinderella story based on the idea. And it was just SO wonderfully Gonzo. We hope he inspires kids watching to be 347% of themselves in their own way, too."[25]
Additional References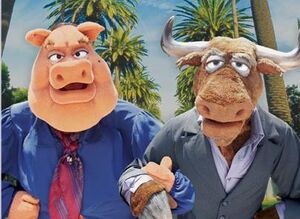 The Dinosaurs episode "I Never Ate for My Father" serves up an allegory for homosexuality, among other societal issues, when Robbie Sinclair tries to keep his very unorthodox vegetarianism a secret from his family, even sneaking off to a counterculture salad bar, a gay bar stand-in.
Productions within the Jim Henson Company's Henson Alternative brand have often explored adult themes, sexual relationships, and featured homosexuality. The improv shows Puppet Up! and Stuffed and Unstrung have featured gay jokes and characters. The 2007 television pilot for Tinseltown followed the life of Bobby Vegan, an outspoken and struggling entertainer (and a pig), and his life-partner and manager, Samson Knight (a bull). Additionally the webseries Neil's Puppet Dreams featured Neil Patrick Harris and his husband David Burtka in a central role along with references to their relationship and sexuality. Episodes of the Henson Alternative television series No, You Shut Up! have featured references to homosexuality, including in-depth discussions of gay marriage in episode 102 (YouTube) and episode 318 (YouTube).
Controversies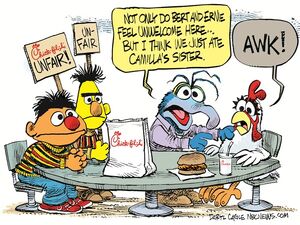 See also: Are Ernie and Bert gay?
Publicity for the "We Are Family" video featuring the Muppets was largely hijacked by conservative groups, saying the project was a vehicle for "pro-gay propaganda." Focus on the Family (an anti-LGBT organization designated as a "hate group" by the Southern Poverty Law Center) commented that they "see the video as an insidious means by which the organization is manipulating and potentially brainwashing kids."[27]
In 2002, conservative groups were outraged over rumors of an HIV-positive Muppet being introduced on Sesame Street. The Traditional Values Coalition stated it would "be another propaganda tool to normalize homosexuality in our culture."[28] The rumors were misguided, with Sesame Workshop having no plans to introduce an HIV-positive character on the American show, nor having any plans to introduce a homosexual character.
In 2012, due to controversies surrounding the fast food chain's positions on gay rights issues, the Jim Henson Company ceased a promotional partnership with Chick-fil-A. In a statement released by the company: "The Jim Henson Company has celebrated and embraced diversity and inclusiveness for over fifty years... Lisa Henson, our CEO is personally a strong supporter of gay marriage and has directed us to donate the payment we received from Chick-Fil-A to GLAAD."
Additional notes

Garth Brooks' song "We Shall Be Free" was performed in Muppets Tonight episode 102. The song contains the line, "when we're free to love anyone we choose ... we shall be free." The lyrics have been interpreted as a reference to supporting gay relationships; Brooks won a 1993 GLAAD Media Award for the song. Brooks, a supporter of gay rights, also performed the song at Equality Rocks, a gay rights march in Washington, D.C. in 2000.
Frank Oz directed the 1997 film In & Out; the film was one of mainstream Hollywood's first attempts at a comedic "gay movie" and was widely noted at the time for a 10-second kiss between Kevin Kline and Tom Selleck.
Sources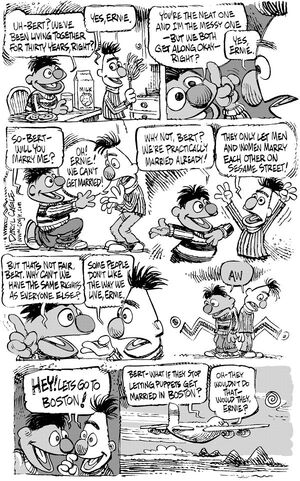 See also
External links