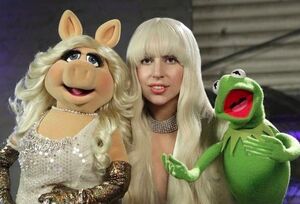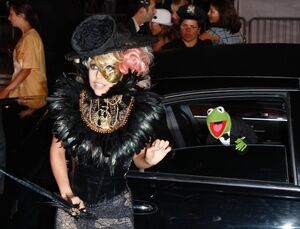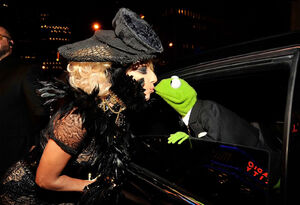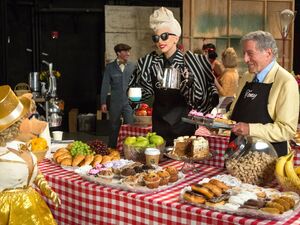 Lady Gaga (born Stefani Germanotta in 1986) is an American recording artist. She appeared with the Muppets in Lady Gaga & the Muppets' Holiday Spectacular which aired on ABC in November 2013, and makes a cameo appearance in 2014's Muppets Most Wanted during "We're Doing a Sequel."
She took Kermit the Frog as her date to the 2009 MTV Video Music Awards.[1] In an interview with Perez Hilton, Miss Piggy dismissed the concept of them dating, saying that "No, no I don't talk about lies. I talk about truth."[2]
In 2010, The Monster Ball Tour featured creations by Jim Henson's Creature Shop.
She also made headlines wearing a top made entirely of plush Kermit the Frogs by Jean Charles de Castelbajac on German television. She wore the outfit as a statement against wearing fur as it "looked like a bunch of dead Muppets".[3]
Jason Segel and Nick Stoller had originally written a cameo for her in The Muppets. It was reported that Lady Gaga would make her first big screen appearance in the 2011 film and was going to be facing off against Miss Piggy in a dance-off. However, when director James Bobin was forced to bring the length of the film down to 98 minutes, Gaga's sequence was dropped from the film. Producer Clint Morris said:
Gaga does not appear in the finished movie. It is unknown if she ever filmed the scene, or if her scene was cut earlier in the production.[5]
Lady Gaga did, however, appear as herself in Muppets Most Wanted, during the song "We're Doing a Sequel" (appearing next to Tony Bennett at a craft services table).
On March 28, 2011, Gaga's 25th birthday, Ellen DeGeneres called the artist from her daily talk show, The Ellen Degeneres Show, to wish her a happy birthday. During the call, Ellen presented a birthday cake to the singer, commemorating a number of famous outfits that the artist wore throughout her young career, including a Kermit the Frog face, facing the audience.
In her memorandum for the May 2011 issue of V Magazine, Gaga writes: "Just like sometimes Picasso was Matisse's Mondrian, and vice versa. Bowie is often my Mondrian, as are Michael Jackson, Prince, Lita Ford, and Madonna. Mugler is my silhouette's Mondrian, Cindy Crawford is my sexuality's, Kermit is my whimsy's."
In April 2020, Gaga collaborated on the cross-network special, One World: Together at Home, credited for helping curate its celebrity lineup which also includes the Sesame Street characters.
References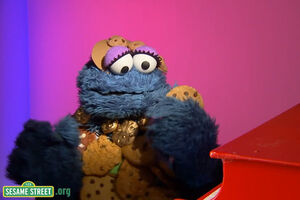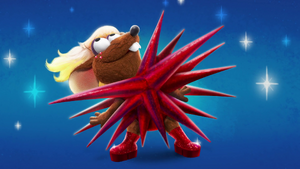 On November 23, 2010, Sesame Workshop launched a viral marketing campaign on Facebook and YouTube called "Cookie Monster should host Saturday Night Live!" In the video, Cookie Monster auditions for the job by putting on an entire show in a short amount of time. For the musical guest, he parodies Lady Gaga playing the piano singing "Cookie Face" in a dress made out of cookies.
When "C is for Cookie" began playing at Toy Fair 2011, the Hasbro representative guessed that it was "something by Lady Gaga". (YouTube)
Gonzo says he "wouldn't mind" going out on a date with Lady Gaga in a 2012 Loaded interview because she wears feathers as well as Camilla the Chicken.
In a 2018 interview with NME, Miss Piggy cited Lady Gaga and Tony Bennett as one of her favorite musical duos.
Sources
External links