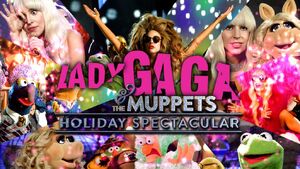 Lady Gaga & the Muppets' Holiday Spectacular is a Christmas special starring Lady Gaga and the Muppets. The 90-minute special was broadcast on ABC and first aired on Thanksgiving night, Thursday, November 28, 2013.
The special features Gaga and the Muppets performing skits and songs, primarily from Gaga's newest album, ARTPOP. The special features appearances by Elton John, Kristen Bell, Joseph Gordon-Levitt and RuPaul along with a sneak peek of the 2014 film Muppets Most Wanted, which features a cameo by Lady Gaga.
Following its television debut, Netflix made the full special available for streaming in the US (and other select territories) starting on December 6, 2013.[1]
Segments
| Image | Segment |
| --- | --- |
| | Pepe the King Prawn introduces his own holiday special "Pepe's Special on Shaved Ice Television Spectacular," however the announcer informs Pepe it's Lady Gaga's holiday special. In an opening montage, Lady Gaga explains why she invited the Muppets to be part of her special. |
| | Lady Gaga performs "Venus" with the Muppets (Kermit, Rowlf, Walter, Gonzo, Fozzie, Scooter, and The Electric Mayhem). Afterwards, Statler and Waldorf comment on the opening number. |
| | Miss Piggy talks with Bernie to plan her big finale, Kristen Bell interrupts to ask Lady Gaga for her autograph, much to Piggy's chagrin. |
| | The members of the Electric Mayhem, Gonzo and Rizzo, the chickens, and Kermit share their favorite holiday memories. |
| | Kermit and Scooter audition acts for the show, including The Amazing Carl and Albert, the Great Gonzo and his Amazing Hypto-stare, Sam Eagle, Shakespeare's "Ram-let", Pepe's "King Prawns on Ice" and the Amazing Carl (again). Fozzie shows up late with a brown-paperbag puppet act. |
| | Lady Gaga performs "Applause" Afterwards, Statler and Waldorf comment on Gaga's dancing. |
| | The members of the Electric Mayhem share what the holidays mean to them. |
| | Lady Gaga and Elton John perform "Bennie and the Jets" and "Artpop." Kermit, Fozzie, Gonzo, Rowlf, Walter, Scooter, and Camilla sing and dance along to "Artpop." Afterwards, Statler and Waldorf comment on the performance. |
| | Gonzo and Rizzo, the Electric Mayhem, and the chickens talk about the best gifts they've received. |
| | Lady Gaga and the Muppets try to come up with ideas for the big finale. Gonzo suggests chickens; Fozzie suggests rubber chickens; Kristen Bell suggests doing something with puppets; Walter suggests Gaga in a vat of organic cold-pressed honey with 50,000 fire-ants and a trumpet; Kermit suggests a banjo and a log; the Swedish Chef makes an indescribable suggestion; Lew Zealand suggests his boomerang fish; Dr. Bunsen Honeydew (with the help of Beaker) suggests a bubble-wrap outfit. |
| | Lady Gaga performs "Manicure." Afterwards, Statler and Waldorf comment on Gaga's performance. |
| | Beaker, Animal and the Swedish Chef perform "Deck the Halls." |
| | Kermit, Gonzo and Rizzo, the chickens talk about the most inappropriate gifts they've received. |
| | Lady Gaga and Kermit take to the stage to talk and share a duet of "Gypsy." |
| | Kristen Bell and Gonzo talk about what the holidays mean to them. |
| | Lady Gaga and Joseph Gordon-Levitt sing "Baby, It's Cold Outside." |
| | Kristen Bell teaches Bobo how to dance. |
| | Kermit and Joseph Gordon-Levitt talk about their favorite holiday traditions. |
| | Kermit and Lady Gaga talk backstage about their families, what made them want to get into show business, and making people happy. Gaga gives Kermit a kiss on the cheek which enrages Piggy who comes in and karate-chop's Kermit. |
| | Lady Gaga and RuPaul sing "Fashion!" |
| | Beaker, Animal and the Swedish Chef perform "Jingle Bells." |
| | Gonzo and Rizzo share a holiday message with the viewers; the chickens cluck "We Wish You A Merry Christmas." |
| | Backstage, Miss Piggy laments Lady Gaga getting all the attention. In a fantasy sequence, Miss Piggy performs "Santa Baby" on stage but keeps getting upstaged by her back-up singers (the gospel choir, Youthful Praise). |
| | Kermit shares a holiday message with the viewers. |
| | Pepe, Fozzie and Kermit introduce the trailer for their upcoming movie, Muppets Most Wanted. |
| | Miss Piggy inspires Lady Gaga on how to close the show - doing a number and celebrating the holidays all together. |
| | Lady Gaga and the Muppets close with an on-stage performance of "Applause." |
| | Bloopers from the special are shown over the closing credits. Statler and Waldorf close the special with a Thanksgiving joke. |
Muppet Cast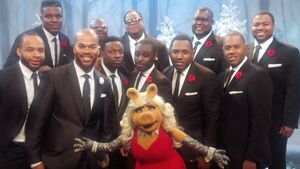 Muppet Characters
Kermit the Frog, Miss Piggy, Fozzie Bear, Gonzo, Pepe the King Prawn, Animal, Dr. Teeth, Floyd Pepper, Janice, Zoot,  Dr. Bunsen Honeydew, Beaker, Rowlf the Dog, Walter, Big Mean Carl, Bobo the Bear, Rizzo the Rat, Statler and Waldorf, the Swedish Chef, Scooter, Sam the Eagle, Lew Zealand, Norman, Camilla, Chickens
Background Characters
Opening Montage Characters (in archival photos)
Credits
Director: Gregg Gelfand
Assistant Director: Debbie Palacio
Segment Director: Lily Olszewski
Musical Director: Michael Bearden
Head Writer: Paul Greenberg
Writer: Jim Lewis
Muppet Performers: Bill Barretta, Dave Goelz, Eric Jacobson, Peter Linz, David Rudman, Matt Vogel, Steve Whitmire
Additional Muppet Performers: Kevin Carlson, Tim Blaney, Julianne Buescher, Nathan Danforth, Dorien Davies, Alice Dinnean, Bruce Lanoil, Paul McGinnis, James Murray, Michael Oosterom, Brett O'Quinn, Mike Quinn, Michelan Sisti, David Skelly, Art Vega
Executive Producer: Salli Frattini
Producer: Eric Conte
Co-producer: Hyunjoo Kim
Line Producer: Lara Karchmer
Segment Producer: Carol Eng
Associate Producer: Danielle Alfano
Sources