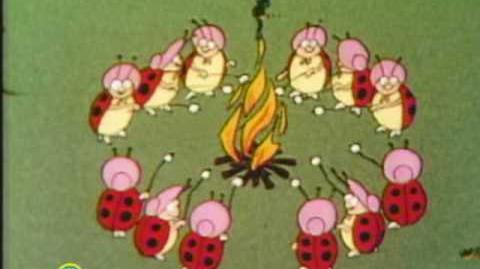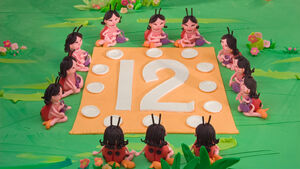 "Ladybugs' Picnic" is an animated Sesame Street song highlighting the joys and sorrows of twelve ladybugs, gathered for a picnic. Folk singer Jim Kweskin performed the vocals on the original version.[1] A remake of the song, from the 1975 LP The Count Counts, featured vocals by Richard Hunt and Jerry Nelson.
In 2010, a stop-motion animated remake was made by Misseri Studio. This features a rerecorded version of the song performed by folk artist Langhorne Slim.[2] (First: Episode 4237)
Sherman Irby arranged a jazz version of the song in 2019 performed by The Count, Abby Cadabby, and Rosita at A Swingin' Sesame Street Celebration.
References
Several references to the segment have been made on the show in the years since its debut.
In the Elmo's World episode "Bugs," a ladybug claims he was going to be late for a picnic.
In a Jane Tuesday segment, "The Case of the Letter L," the song is briefly played on a toy radio.
Episode 4175 features the Bug-A-Wee Bug Shelter, where three ladybugs are seen having a picnic and singing the song to themselves.
In Episode 4191, Hooper's Store is seen advertising their "Ladybugs Picnic Special," which consists of six s'mores and a glass of milk (all for $1.20).
A painting of the ladybugs from the cartoon is seen in The Cookie Thief, and again in the "Smart Cookies" segment "Making Whoopie in the Library."
Releases
Audio
Video
Online
Publications
Trivia
In 2007, the song was used in a TV advertisement in the United Kingdom for Heinz Salad Cream.
Sources