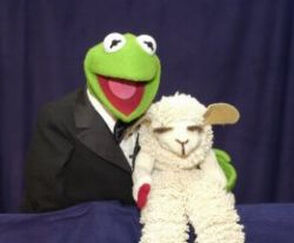 Lamb Chop is a hand puppet made famous by ventriloquist/puppeteer Shari Lewis.
Lamb Chop debuted in 1957 on Bob Keeshan's Captain Kangaroo, and soon headlined several television series with Lewis and fellow puppets Hush Puppy and Charlie Horse, including The Shari Lewis Show, Lamb Chop's Play-Along, and The Charlie Horse Music Pizza.
Appearances
Following the death of Shari Lewis in 1998, daughter Mallory Lewis Tarcher took over the role. In 2001, the Kidsnet Lamb Chop Award was given to Joan Ganz Cooney, Lloyd Morrisett, and the late Jim Henson (accepted by Jane Henson) for the creation of Sesame Street.
References
When Maria puts a sock on her hand to make a puppet kiss Oscar the Grouch in Episode 2346, he recoils in disgust and says, "It looks like Lamb Chop with stripes. (I hate puppets)."
During Shari Lewis and Lamb Chop's visit to Sesame Street in Episode 3525, they help give Sooey the Pig some confidence in herself. She then reveals she's getting her own TV show titled Pork Chop's Play Along and goes off oinking the tune of "The Song That Never Ends."
Muppet Mentions
In the third episode of Lamb Chop's Play-Along ("Too Sick to Go to the Circus"), Act 2 begins with Lamb Chop watching her favorite TV show, "Judge Wapner" (The People's Court). Shari mentions that she thought "Big Bird" was her favorite TV show. Lamb Chop replies "Yeah. Big Bird and Judge Wapner."
In the second season episode "A Cat By Any Other Name," a copy of Sesame Street Magazine (specifically the November '92 issue) is used during the song "My Aunt Rose Went to Paris."
Connections
Gord Robertson performed Buster the Bus on Lamb Chop's Play-Along and Fingers on The Charlie Horse Music Pizza
External links