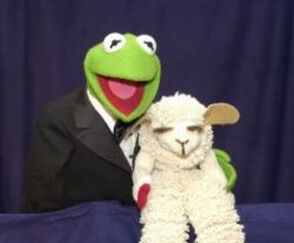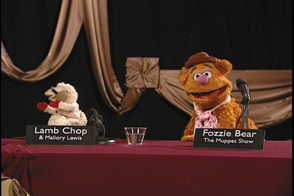 Lamb Chop is a hand puppet lamb made famous by ventriloquist/puppeteer Shari Lewis. Lamb Chop debuted in 1957 on Bob Keeshan's Captain Kangaroo, and soon headlined several television series with Lewis and fellow puppets Hush Puppy and Charlie Horse, including The Shari Lewis Show, Lamb Chop's Play-Along, and The Charlie Horse Music Pizza. Shari and Lamb Chop were featured guests on Episode 3525 of Sesame Street, and also appeared in a celebrity version of "The Alphabet Song."
Following the death of Shari Lewis in 1998, daughter Mallory Lewis Tarcher took over the role. In 2001, the Kidsnet Lamb Chop Award was given to Joan Ganz Cooney, Lloyd Morrisett, and the late Jim Henson (accepted by Jane Henson) for the creation of Sesame Street.
In 2003, Lamb Chop joined Grover and Fozzie Bear at the Pittsburgh Puppet Conference.
Muppet Mentions
In the third episode of Lamb Chop's Play-Along, "Too Sick to Go to the Circus" (1992), Act 2 begins with Lamb Chop watching her favorite TV show, "Judge Wapner" (The People's Court). Shari mentions that she thought "Big Bird" was her favorite TV show. Lamb Chop replies "Yeah. Big Bird and Judge Wapner."
External links
Community content is available under
CC-BY-SA
unless otherwise noted.