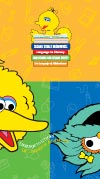 Language to Literacy is part of the "Sesame Street Beginnings" series produced by Sesame Workshop with support from the Prudential Foundation in 2000. The program is an adult-oriented video to teach simple things adults can do every day with children will get them on the road to language development. The 24-minute Sesame Street VHS is produced in both English and Spanish.
In the video, Luis teaches language skills to Telly, Rosita, Big Bird and Gabi while trying to teach baby Natasha to speak. The video features two original songs, "Born to Learn" and "It All Starts with Goo Goo Goo."
The video can be downloaded for free at The iTunes Store through the "Sesame Street in Communities" podcast.
Credits