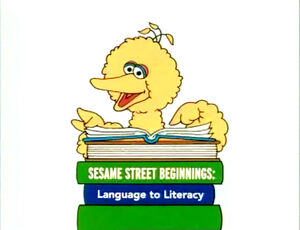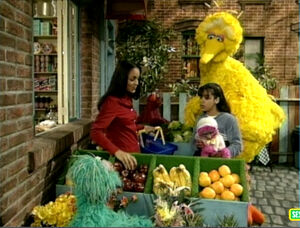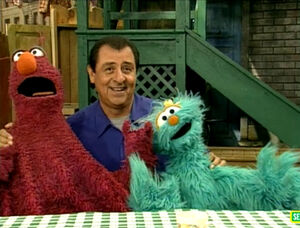 Language to Literacy is part of the "Sesame Street Beginnings" series produced by Sesame Workshop with support from the Prudential Foundation in 2000. The program is an adult-oriented video to teach simple things adults can do every day with children will get them on the road to language development. The 24-minute Sesame Street VHS is produced in both English and Spanish.
In the video, Luis teaches language skills to Telly, Rosita, Big Bird and Gabi while trying to teach baby Natasha to speak. The video features two original songs, "Born to Learn" and "It All Starts with Goo Goo Goo."
The video can be downloaded for free at The iTunes Store through the "Sesame Street in Communities" podcast.
Credits
Produced By: Tom Camnisa
Directed By: Ozzie Alfonso
Written By: Annie Evans
Starring Jim Henson's Sesame Street Muppets:
With Muppet Performers:
Children: Hayley Abadi, David Alfonso, Carl Chase, Omar Soliman, Kayla Vega, Zachary Wall
Jim Henson's Puppet Workshop: Stephen Rotondaro, Lara MacLean, Michelle Hickey, Ann Timinelli
Music & Lyrics: Christopher Cerf, Annie Evans, Dan Sovak, Tom Wagner
Music Director: Dan Sovak
Music Supervisor: Dave Conner
Associate Director: Cher Jung
Graphic Designer: Mike Pantuso
Costume Designer: Bill Kellard
Camera: Frank Biondo, Jerry Cancel, Jimmy O'Donnell
Music Coordinator: Danny Epstein
Title Animation: Fred Garbers
Project Directors: Jeanette Betancourt, Ed. D and Joanne Livesey
Director of Production: Christina Delfico
Vice-President, Sesame Street Research: Rosemarie Truglio, Ph.D.
Community content is available under
CC-BY-SA
unless otherwise noted.