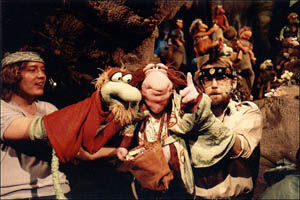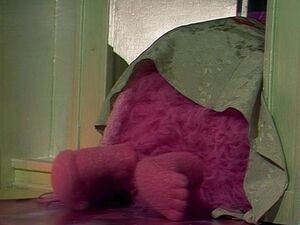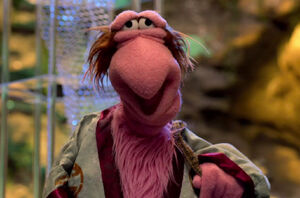 Large Marvin is the fattest Fraggle in Fraggle Rock, due to his love of snacking. He is a bit dimwitted, but is also athletic and a feared swimming opponent of Red Fraggle. His first appearance was in the Fraggle Rock episode "The Beast of Blue Rock."
One of his most prominent appearances was in the episode "The Trial of Cotterpin Doozer," where he and Feenie Fraggle provide defense for Cotterpin Doozer on behalf of all Fraggles. Large Marvin notably becomes the only Fraggle to (partially) enter the Doozer Dome.
Large Marvin Fraggle made a non-speaking cameo in A Muppet Family Christmas during the "Pass It On" number. The puppet was later used as one of the KMUP audience members on Muppets Tonight.
He returned in Fraggle Rock: Back to the Rock, performed now by Frank Meschkuleit. He has a featured role in "Red and the Big Jump" as a part of Gobo's "Floop, Bloop, and Whoop" team (providing the "Whoop"), and later in the season becomes a member of the Wise Council of Fraggles.
Filmography