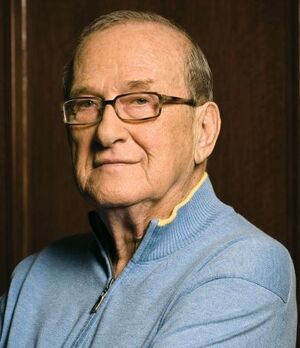 Larry Gelbart (1928-2009) was a writer and producer in television, stage, and films, particularly known for his work on M*A*S*H (developing the show for television, as head writer for the first four seasons, and occasionally directing). With Gary Belkin, Gelbart scripted the unsold 1962 pilot Mad Mad World, which included the Muppets as intended regulars. The pilot taped in April, and the next month, the musical A Funny Thing Happened on the Way to the Forum (with book co-written by Gelbart to songs by Stephen Sondheim) opened on Broadway
Ten years later, in October 1972, Jim Henson met with Gelbart to discuss Henson's own proposed Broadway Show.[1] Gelbart dropped out of the project by February 1973 (after M*A*SH had aired), but remained in touch with Henson. Henson later consulted Gelbart as writer for yet another stage project, Bodo in 1981. An agreement was drawn up listing Gelbart and Henson as co-book writers and sharing half the profits,[2] but by 1983 he and Henson had again gone separate ways.[3]
Gelbart began his career as a gag writer on radio in the mid-1940s, including Duffy's Tavern, The Jack Paar Show, and a lengthy stint on The Bob Hope Show (1948-1952). He moved into television, during the heyday of comedy variety shows, writing for Caesar's Hour, Bob Hope's shows (again), three Art Carney specials, The Danny Kaye Show, The Red Buttons Show, and later The Marty Feldman Comedy Machine. For M*A*S*H*, Gelbart's many contributions included writing the notable episodes "Dear Dad" and "The Interview", while other sitcoms included the unaired pilot for Three's Company, the short-lived series Karen, and the equally short-lived spin-off AfterMASH.
Gelbart's film credits included writing or co-writing screenplays for The Wrong Box (starring Michael Caine and Dudley Moore), Tootsie (with help from Elaine May and others), Oh, God! (starring John Denver and George Burns), and Movie Movie (starring George C. Scott). On stage, in addition to Forum, Gelbart wrote the Broadway plays Sly Fox (1976) and City of Angels (1989). One of his last projects was scripting the TV movie And Starring Pancho Villa as Himself.
Sources
↑ Jim Henson's Red Book. 12/27-28/1972 – 'Go to LA meet with Larry.'. Posted December 27, 2012
↑ Finding Aid for the Larry Gelbart Papers. UCLA Library Special Collections
↑ Jim Henson's Red Book. 6/19/1981 – 'Call Larry Gelbart.'. Posted June 20, 2014.
External links
Community content is available under
CC-BY-SA
unless otherwise noted.