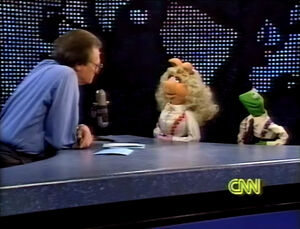 Larry King Live is a popular interview show which aired on CNN from 1985 to 2010, hosted by Larry King. The Muppets have appeared on the show several times, including a 1994 April Fool's Day episode hosted by Kermit the Frog. In 2004, a segment for episode 4079 of Sesame Street was filmed on the set of Larry King Live featuring Larry King interviewing a W.
President Obama appeared on the final broadcast of the show in a videotaped tribute to King. The President noted that King has interviewed "everyone from presidents to generals, to Kermit the Frog to Joe from Tacoma."
Appearances
Kermit and his very, very distant cousin Gingrich the Newt appeared in a special Christmas broadcast on December 23, 1994.
King invited Johnny Fiama and his monkey assistant, Sal, on the show as his guests on Christmas Eve, 1996. One segment of the episode was broadcast from the set of Johnny's own talk show, The Johnny Fiama Show, with King as the guest.
External links
Community content is available under
CC-BY-SA
unless otherwise noted.