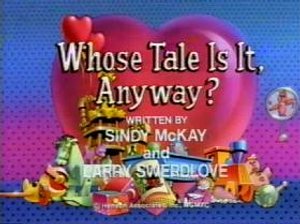 Larry Swerdlove is a writer who with his wife Sindy McKay scripted many episodes of Muppet Babies. Swerdlove was originally credited as a researcher before moving up to writer in the third season.
Swerdlove and McKay both wrote for Disney's Chip an' Dale Rescue Rangers, Children's Television Workshop's Saturday morning ABC series Cro, Clifford the Big Red Dog, and Jakers! The Adventures of Piggley Winks. On his own, Swerdlove has scripted episodes of the 1990s version of The Pink Panther, The Twisted Tales of Felix the Cat, Extreme Ghostbusters, Mummies Alive, and RoboCop: Alpha Commando. He directed and scripted the 1993 film The Skateboard Kid (with Sindy McKay in a small role and the voice of Dom DeLuise). He produced Mikhail Baryshnikov's Stories from my Childhood, dubbing older Russian animated versions of fairy stories and folk tales.
Writing credits
External links
Community content is available under
CC-BY-SA
unless otherwise noted.