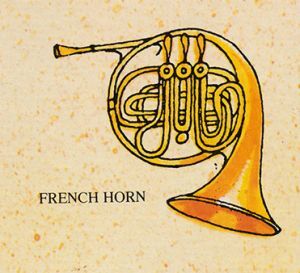 Larry Wechsler, sometimes billed as Lawrence Wechsler, is a French horn player, heard on the Sesame Street albums Big Bird's Birdtime Stories (1980) and Big Bird Discovers the Orchestra (1981). On the latter, he had a solo turn on "Galop for French Horn."
Wechsler participated in the 1975 album In Tribute to a Friend (a salute to noted classical French horn player John Barrows), heard in ""Variations for Solo Tuba and Nine Horns." As a session musician, Wechsler played on Judy Collins' 1975 album Judith (including "Send in the Clowns"), Hubert Laws' Say It with Silence, and John Zorn's 1998 recording Aporias: Requia for Piano & Orchestra. He also worked with Philip Glass, including Glassworks (1982) and the "Glasspieces" portions of Dancepieces (1987). He also played for a time with the New York Harmonie Ensemble (heard on an album of overtures by Rossini and others) and a longer stint with the Metropolitan Opera Orchestra (on French horn and Wagner tuba). Wechsler plays with the American Composers Orchestra.
External links
Community content is available under
CC-BY-SA
unless otherwise noted.