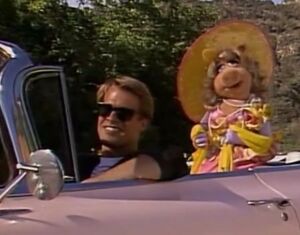 Lars is the chauffeur, bodyguard, and personal trainer to Miss Piggy in the 1989 special Miss Piggy's Hollywood (half of The Jim Henson Hour episode 105). Piggy turns to the camera to note, "Is he not cute?"
Lars has no dialogue and spends the bulk of the special smiling handsomely at the camera. As a driver, he has a tendency towards sharp, sudden stops, usually flinging his employer from her seat. Despite his deficits in vehicle maneuvering, Piggy addresses him with such terms of endearment as "Cuddles," "Hugbunny," and "Honeybuns." Lars can also be seen tanning himself by the pool when Piggy interviews Justine Bateman.
Lars was played by Karl Rumburg, an actor who went on to play a small part in the movie Joe Versus the Volcano, and a couple of TV-movies.[1]
Sources
Community content is available under
CC-BY-SA
unless otherwise noted.