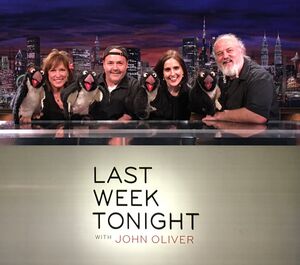 Last Week Tonight with John Oliver is a comedy news program that airs on HBO. The half-hour show premiered on April 27, 2014, and is hosted by comedian John Oliver. Last Week Tonight shares some similarities with Comedy Central's The Daily Show with Jon Stewart, where Oliver was previously featured as a correspondent and fill-in host, as it takes a satirical look at news, politics and current events, but on a weekly basis.
References
Muppet Appearances
Image
Description
September 2, 2014
A web-exclusive video was produced and released on the show's official YouTube channel to promote "W-ORD Channel 7 News With John Oliver & Cookie Monster," a video distributed by Mashable in support of Sesame Workshop's "Words Are Here, There, and Everywhere" initiative. (YouTube) (YouTube)
April 17, 2016
Elmo, Rosita and Oscar the Grouch (performed by Eric Jacobson) appeared in a piece about lead, wherein the 1996 resource video Lead Away! was referenced. (YouTube)

May 21, 2017
The episode concludes with an appearance by four Sesame Street penguins (performed by Pam Arciero, John Kennedy, Stephanie D'Abruzzo and Tyler Bunch). A clip of them from Leslie Feist's "1234" parody is used earlier in an abridged 3 minute segment on the TSA, which John Oliver assures would have been funny in context.

November 12, 2017
The Sesame Street penguins return for the season finale (performed by Ryan Dillon, Frankie Cordero, Peter Linz and Carmen Osbahr).
Muppet mentions
Image
Description




June 20, 2014
A segment on the United States prison system included a clip of Little Children, Big Challenges: Incarceration. Oliver commented on the initiative stating: "Just think about that, we now need adorable singing puppets to explain prison to children, in the same way that they explain the number 7, or what the moon is." (YouTube)

The segment culminated with a Sesame Street parody featuring a song about the prison system's flaws. The puppeteers featured included Stephanie D'Abruzzo, Noel MacNeal, and James Wojtal. On the show's first season finale, Oliver looked back on the best moments of the season, including the "Prisons" segment. The characters from that segment returned to say goodbye, while also claiming that Jimmy Fallon works harder. The original three puppeteers were credited, as well as Haley Jenkins, Paul McGinnis and Michael Schupbach.

June 29, 2014
In a segment about LGBT rights in Uganda, Oliver plays a song written by a religious group in an attempt to "take back" the symbol of the rainbow from the LGBT community. After playing the song, Oliver commented that "if Kermit ever heard that song, he would immediately insist on one fewer 'songs about rainbows'." (YouTube)
November 9, 2014
Oliver presented a segment about state lotteries, calling them "the second best use of magic marker on ping-pong balls after Kermit the Frog's eyes." (YouTube)
July 26, 2015
In a segment on mandatory minimums, Oliver showed a clip of Cartoon All-Stars to the Rescue featuring the Muppet Babies; Oliver commented on the clip calling it a "loud and clear message to kids" that "if you do drugs, all of your favorite cartoon characters will show up and talk to you." (YouTube)
September 13, 2015
In a segment on public defenders, Oliver stated: "A study in New Orleans, a few years back, found that the city had some part-time defenders who could only spend an average of seven minutes per case. And that is not long enough to prepare anything. If I only had seven minutes to prepare this show, I definitely would not be talking about public defenders right now. I'd be desperately trying to fill time by listing the Muppets in order of fuckability. And I'll do it now: Fozzie first, obviously. Obviously, you go Fozzie first; most attractive thing is a sense of humor. Then you got to go Rowlf, you've got to go Rowlf. Then, you know what? I'm going Swedish Chef. And I'm finishing up with Sam the Eagle, 'cause you know, he's into some freaky business. Freaky." (YouTube)
November 22, 2015
In a segment on pennies, Oliver commented: "pennies don't circulate, and yet the penny hangs around for no reason like the appendix or the new Muppets TV show. How is this still on? And how did someone somewhere think 'you know what the problem with the Muppets is? Kermit doesn't fuck enough pigs. Let's have him fuck a different pig! Lets do that.'" A picture of Kermit, Miss Piggy and Denise is shown. (YouTube)
May 10, 2016
In a segment on scientific studies, Oliver mentions Al Pacino while showing an image of Beaker. (YouTube)
June 19, 2016
In a segment on the NRA, Oliver compared the 96% drop in funding towards gun control research to Lycos and Tickle Me Elmo stampedes. (YouTube)
August 6, 2016
Oliver introduced a segment on journalism by saying "Journalists: the heroes that we root for in movies like All The President's Men, The Great Muppet Caper, and—most recently—Spotlight. (YouTube)
September 25, 2017
In a segment on Corporate Consolidation, Oliver referred to JetBlue's Terra Blues potato chips as being made out of Grover's arms. This claim was later retracted in a web-exclusive clip that was uploaded on August 26, 2018. (YouTube)
October 15, 2017
Oliver criticized Equifax for not being concerned when hundreds of credit reports were being mailed to the same address stating "what exactly did you think had happened there? That every single Fraggle checked their credit at once down at Fraggle Rock (clap clap) down at Fraggle Rock?" (YouTube)
April 1, 2018
Oliver reported on an immigration judge who claimed to be able to explain immigration law to three-year-olds who lack legal representation: "You can't teach immigration law to a three-year-old. You can't even explain to child that age that Elmo isn't his best friend. Elmo's not only a puppet, he's a celebrity. He's never even heard of you. Your relationship is completely asymmetrical." (YouTube)
August 5, 2018
In a segment on prosecutors, a clip of a 1993 episode of Sesame Street with Count von Count as a judge and a penguin jury is shown. Oliver notes disbelief that the penguin jury wrongly convicted the Central Park Five. (YouTube)
August 12, 2018
Oliver says Trump's racism is a brand in the same way Kermit being a frog is.
April 14, 2019
In a segment on opiods, Oliver says the town Kermit, West Virginia, is named that because Kermit lives there with his "secret second family," a pair of salamanders named Francois and Gary. "It was never you, Miss Piggy. It was him."(YouTube)
External links