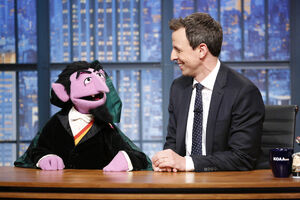 Late Night with Seth Meyers is a talk show hosted by Seth Meyers that airs on NBC. The fourth incarnation of NBC's Late Night franchise, Meyers show debuted in February 2014 after previous host Jimmy Fallon left Late Night to host the The Tonight Show.
Appearances
March 26, 2015 - Count von Count appeared to present the regular "This Week in Numbers" segment with Meyers. (YouTube)
Mentions
On the episode of June 11, 2014, Meyers performed a bit called "Late Night Trading Cards," where Meyers opened packs of humorous trading cards and shared the statistics on the back (much like a sports card) with the audience. One pack was a "Pig Pack," which featured famous fictional pigs. The final card in the stack featured Miss Piggy. The statistics read: "Hair Color: Blonde. Eye Color: Blue. Favorite Color: Pink. Sexual Preference: Green."
On the episode of February 5, 2016, The Muppets was featured in the segment "Hidden Credits," where a fake credit on the show read "Hand Accommodations provided by Kermit's Ass."
On the July 20, 2017 episode, in his recurring "A Closer Look" segment, Meyers described former FBI Director Robert Mueller as looking "like Sam the Eagle's human son". He then explained, "That's right; what I am saying is that Sam the Eagle had sex with a human woman."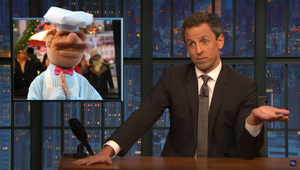 On the November 19, 2018 episode, in the "A Closer Look" segment, he talks about President Donald Trump's previous comments on other countries. In the part about Sweden Meyers does his Trump impersonation saying "...He called me on the phone last night and he said, and these are his exact words, he said to me, schmorgity, borgity, borgity, borg. And you know, it's so true. I said it's so true."
On the April 27, 2020 episode, in the "A Closer Look" segment, Meyers facetiously gave a tip to former New York City mayor and "Donald Trump's chinless gargoyle Rudy Giuliani," saying "No one's going to think you're smart just because you started wearing glasses. All it does is make you look like Dr. Bunsen Honeydew went on a meth bender. Adding glasses isn't going to suddenly make you look like a gentleman of letters," adding "Well, well, well; who's that scholarly kumquat?" During the same episode, Meyers reported on the CNN special The ABCs of COVID-19, saying "CNN aired a Sesame Street town hall over the weekend to answer questions about the coronavirus, featuring Elmo, Abby Cadabby, and Grover. Oscar would have been there, but he was deemed an essential worker."
March 25, 2021 monologue: President Joe Biden suggested in a press conference that Republican voter suppression laws as making "Jim Crow look like Jim Eagle." Meyers questions if he is "talking about the Muppet?"
April 14, 2021 A Closer Look: Meyers says that Rand Paul "looks like a puppet fired by the Jim Henson Workshop for stealing office supplies."
April 15, 2021 A Closer Look: Meyers says that "Republicans are obsessed with the idea that Biden is a puppet, when Trump was like a Muppet they introduce on Sesame Street to teach kids about impulse control. [Impersonating Cookie Monster] Where all my cookies go? [Impersonating Trump] Sorry C. M., I ate 'em all."
June 14, 2021: Meyers in the monologue notes that Amazon has introduced "two robots, named Bert and Ernie. And they brought in this guy," showing Count von Count, "to make sure they meet their quotas."
June 15, 2021:

In the monologue, "According to reports, a pop-up coronavirus vaccine site in New York's Times Square gave nearly 900 patients expired doses of the Pfizer shot. Patients became worried the moment they saw the doctor." A picture of a Times Square Elmo is shown, wearing a stethoscope.
Josh Meyers, the host's brother, plays California Governor Gavin Newsom in a sketch. At the end, Newsom waves while saying "Mahna-mahna."
Connections
Fred Armisen is the leader of The 8G Band, the show's house band.
Community content is available under
CC-BY-SA
unless otherwise noted.