(12 intermediate revisions by one other user not shown)
Line 1:
Line 1:
−

[[Image:Laurelandhardy.jpg|frame|Oliver and Stan are oblivious to [[Oscar the Grouch|Oscar's]] annoyance.]]

+

[[Image:Laurelandhardy.jpg||Oliver and Stan are oblivious to [[Oscar the Grouch|Oscar's]] annoyance.]]

−

'''Laurel and Hardy''' were a legendary team of film comics, consisting of Stan Laurel (1890-[[1965]]) and Oliver Hardy (1882-[[1957]]). The pair were a contrast in humorous opposites: fat, imperious, moustachioed, Southern-accented Hardy, and thin, emotional, [[England|English]]-accented Laurel. Between 1926 and 1951, the duo appeared together in 106 films, including shorts and features.

+

'''Laurel and Hardy''' were a legendary team of film comics, consisting of Stan Laurel (1890-1965) and Oliver Hardy (1882-1957). The pair were a contrast in humorous opposites: fat, imperious, , Southern-accented Hardy, and thin, emotional, [[England|English]]-accented Laurel. Between 1926 and 1951, the duo appeared together in films, including shorts and features.

 
 
 

==References==

 

==References==

−

*Laurel and Hardy appear as caricatures in the ''[[Sesame Street]]'' book ''[[We're Different, We're the Same]]''. Oliver Hardy in particular shows up on several pages.

+

* ''[[Sesame Street]]'' [[ ]]

 
+

*The song "You and Me" from ''[[The Jim Henson Hour]]'' episode "[[Episode 112: Food|Food]]" has [[Clifford]] singing, "When Laurel's in the doorway, it's Hardy far behind."

⚫
 
 
+

*Laurel and Hardy appear as caricatures in the ''Sesame Street'' book ''[[We're Different, We're the Same]]''. Oliver Hardy in particular shows up on several pages.

 
⚫
 
+

*[[Oscar the Grouch]] uses Oliver Hardy's catchphrase ("Well, here's another nice mess you've gotten me into") in a 2017 [[Vanity Fair]] video.

 
 
−

==External Links==

+

==External ==

 

*[http://www.laurel-and-hardy.com/ Official Site]

 

*[http://www.laurel-and-hardy.com/ Official Site]

 
 
 

{{wikipedia}}

 

{{wikipedia}}

 
+
 
+

__NOWYSIWYG__

 

[[Category:Celebrity References]]

 

[[Category:Celebrity References]]

 
+

[[Category:Movie References]]
---
Latest revision as of 03:09, 6 March 2020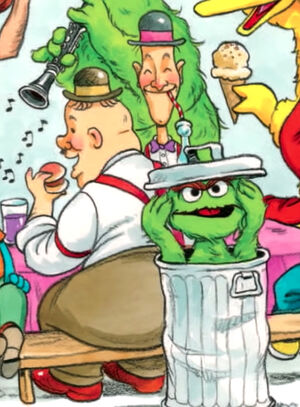 Laurel and Hardy were a legendary team of film comics, consisting of Stan Laurel (1890-1965) and Oliver Hardy (1882-1957). The pair were a contrast in humorous opposites: fat, imperious, mustachioed, Southern-accented Hardy, and thin, emotional, English-accented Laurel. Between 1926 and 1951, the duo appeared together in over a hundred films, including shorts and features.
References
External links
Community content is available under
CC-BY-SA
unless otherwise noted.