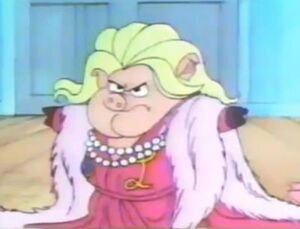 Laverne & Shirley is a sitcom created by Garry Marshall which ran from 1976 to 1983, focusing on two best friends who work in a Milwaukee brewery (and later move to California). A spin-off of Happy Days, the characters were introduced as friends of the Fonz and appeared three times before landing their own show.
As with Happy Days and Mork and Mindy, the series was adapted by Hanna-Barbera into a cartoon (running for a season and a half, from 1981 to 1982). Now in the army, the pair have to cope with Squealy, an obnoxious talking pig in a corporal's uniform.
References
Muppet Mentions
In the animated series episode "April Fools in Paris," Laverne and Shirley's overstuffed foot locker bursts open, showering Squealy with their garments. Laverne quips "With that get-up, you could be another Miss Piggy."
Connections
Community content is available under
CC-BY-SA
unless otherwise noted.