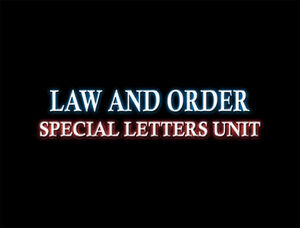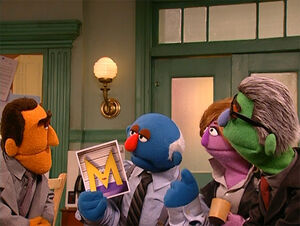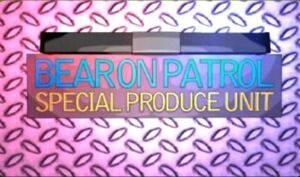 Law & Order is a television police procedural and legal drama set and shot in New York City. The award-winning Law & Order and its several spin-off series ("Special Victims Unit", "Criminal Intent", "Trial by Jury", "Los Angeles") are broadcast on the NBC network and syndicated on other networks. The franchise totals more than 700 hour-long episodes. Foreign adaptations include Law & Order: UK, Paris enquêtes criminelles and Russian adaptations of SVU and CI. Several Law & Order franchise cast members (such as Christopher Meloni and Richard Belzer) have appeared in Henson/Muppet productions. Additionally, the format of the shows and the large number of episodes require a substantial amount of non-recurring and incidental characters per episode (witnesses, judges, attorneys, etc.) As a result many Sesame Street cast members have played guest roles in episodes, often returning as different characters. When Sonia Manzano appeared as a trial witness in a 2004 episode, she remarked that "the sound guy kept calling me Maria and telling me he grew up watching me. It was funny."[1]
Muppet Mentions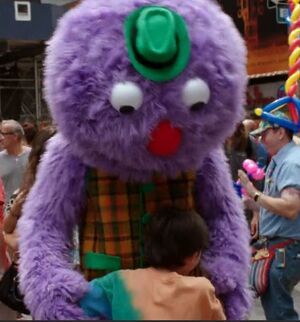 In the sixth season Law & Order episode "Savior" (March 13, 1996), Detective Rey Curtis says of a murder suspect "That guy pulls more strings than Jim Henson."
In the Law & Order episode "American Jihad" (October 2, 2002), Detective Lennie Briscoe retorts with the sarcastic wisecrack "I guess I missed that day on Sesame Street" after a suspect makes an overly technical remark about medical research.
In the Law & Order episode "Patient Zero" (October 8, 2003), when a uniformed cop uses euphemisms to avoid even mild curse words, Briscoe says, "What precinct are you from? Sesame Street?"
In the Law & Order: UK episode "Survivor" (7 October 2010), Sergeant Ronnie Brooks questions a suspect if a prison officer piss off a few of his pals on Fraggle Rock.
In the Law & Order: SVU episode "Imprisoned Lives" (September 25, 2013), the detectives are called to an incident involving a Times Square walk-around performer as a colorful monster "MO-MO." Rollins wonders "Again? What is it with these guys?" The character (played by Muppet performer Rick Lyon) is a reference to the many unauthorized Times Square costume characters, including Elmo, and various incidents in which they have been reported as aggressively panhandling, entering altercations with tourists, or been arrested. "MO-MO" later reappeared in the episode "Devastating Story" (April 1, 2015) where he is seen on a poster.
In the Law & Order: SVU episode "Dissonant Voices" (November 6, 2013), the detectives are investigating allegations against a popular and openly gay music teacher (Billy Porter) made by his pre-school students. Because he is also a voice coach, some of the squad is a little concerned about the overall nature of the case given his celebrity status and sexuality, to which Tutuola references the similar scenarios involving Kevin Clash by remarking, "That's gonna change. Everyone loved Elmo too."
References
Sesame Street Season 37 brought "Law and Order: Special Letters Unit", a parody of the television series Law & Order: Special Victims Unit, to the show's line-up.
The sketch features Anything Muppet caricatures of Special Victims Unit cast members Meloni, Hargitay, Belzer, and Florek on a case for a missing letter "M". The sketch also parodies the show's format and infamous musical sting. As they investigate, they find things that start with the letter "M", including a cow named Murray (Eric Jacobson) that makes mmooo sounds and a mallard (Tyler Bunch). In the end, the detectives recognize the missing letter "M" (Matt Vogel) walking into the police station wearing a phony moustache, and the case is solved.
The sketch appears as a bonus feature on the North American DVD release of Law and Order: Special Victims Unit season six.
In a TV Guide interview, Sesame Street producer Carol-Lynn Parente expressed interest in taping more segments for Season 38, possibly featuring the voices of the original actors. Special Victims Unit is filmed and produced in Kaufman Astoria Studios, the same studio Sesame Street is filmed in. However, while no other Muppets segments have been produced, several cast members appeared in Season 38, mostly filmed behind their desks.

As an example of that, in Episode 4148 from Season 38, Christopher Meloni from Law & Order: SVU appeared in a "Word on the Street" segment. He was introduced with the Law & Order series' "chung-chung" transitional sound, and appeared behind a SVU police report to discuss "mail."
In the 2011 film The Muppets, the CDE prime-time schedule chart showing all network offerings spoofed the ubiquity of the Law & Order franchise on NBC, with It's the Law, It's the Law: CVS, It's the Law: SUV, and multiple reruns of the franchise.
Connections
Law & Order
Cast Members:
Guest Appearances:
Muppet performers/Sesame Street regulars
Other guests:
Law & Order: Special Victims Unit
Cast Members:
Guest Appearances:
Muppet performers/Sesame Street regulars
Other guests:
Law & Order: Criminal Intent
Cast Members:
Guest Appearances:
Sesame Street regulars/Muppet performers
Other guests:
Law & Order: Trial by Jury
Cast Members:
Guest Appearances:
Law & Order: Los Angeles
Cast Members:
Video Games
Sources
↑ Madden, Mekeisha. "Sesame Street Celebrates 35 Years of Teaching Kids." The Detroit News. 2004