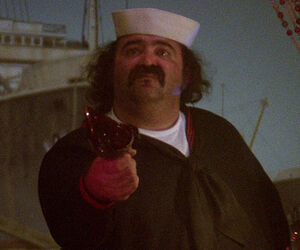 Lawrence Gabriel, Jr. (1937-2007) was an actor, drama teacher, and occasional producer, most often credited as Larry Gabriel. He appeared in The Muppet Movie as the fat sailor who gives an unexpected response to Fozzie Bear's comedy routine, breaking a bottle to emphasize his point.
Gabriel's other movie credits, usually in low-budget or exploitation fare, were also bit parts and sometimes explicitly referenced his portly frame (billed as "Fat Counterman" in the 1976 action film Trackdown). He was in the blaxploitation vehicle Truck Turner (1974) and appeared in sex comedies like Video Vixens (1975) and Cavegirl (1985). Outside of The Muppet Movie, one of his few mainstream credits was in Cracking Up (1983), directed by and starring Jerry Lewis (with Milton Berle and other comics in support).
The greater part of Gabriel's life and career was spent off camera as a high school drama teacher, particularly at Crespi High School, from 1976 until his death in 2007.
External links