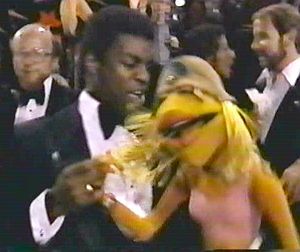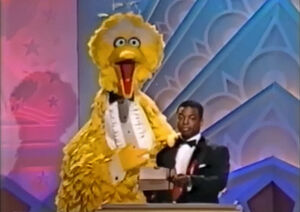 LeVar Burton (b. 1957) is best known for his roles as Kunta Kinte on Roots and Geordi La Forge on Star Trek: The Next Generation.
He appeared in the 1979 special The Muppets Go Hollywood, dancing with Janice to "Boogie Motion." He was also one of several celebrities who appeared in I Love Liberty, a special that also featured the Muppets.
Burton is also well-known as the host of the popular children's show Reading Rainbow. Kermit and Kevin Clash have both made guest appearances on the show.
He and Big Bird appeared as presenters at the 1994 Daytime Emmy Awards. As host of Reading Rainbow, Burton has received many Daytime Emmy nominations for "Outstanding Performer in a Children's Series," including in 2005. At that year's Emmy red carpet event, he was interviewed by Kermit and Miss Piggy for The Tony Danza Show, commenting that Tony's lack of nomination "is a travesty of a sham of a shame of an injustice, of an absolute abomination." Kermit's reply? "That is exactly what we say!" (YouTube)
Trivia
Burton was the first client of agent Dolores Robinson, Matt Robinson's wife.
External links
Community content is available under
CC-BY-SA
unless otherwise noted.